Panang chicken pie
Panang chicken pie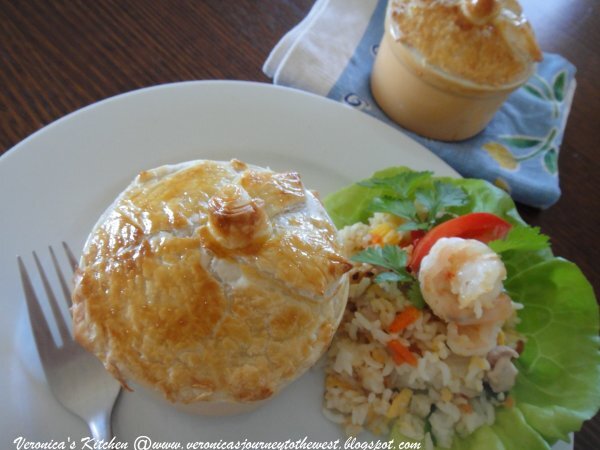 Preparation
1. Heat oil in the pan, add the onion and curry paste, then add the sugar and stir for a bit. Add in the chicken and stir for a few minutes until the chicken is nearly cooked. Add the garlic, carrot, capsicum, beans, lemon grass and coconut cream. Let it simmer for about 10 -15 minutes, add in the baby peas, seasoned it with salt and thicken it with the cornflour mixture.
2. Discard the lemon grass. Fill the ramekins with the chicken curry. Brush the edge of 3 ramekins with egg.
3. Cut the puff pastry into quarters. Place one piece of pastry over the ramekins and trim off the side.
4. Cut a little cross in the middle with the knife for air hole so you won't ended up with a pop up pie.
5. Use the left over pastry to make pattern for the pie and brush it with egg before putting into the oven.
6. Cook it in a hot oven at 230c for about 20 minutes or until pastry is golden. Serve it with fried rice or steam rice.
Questions:
You may like
Recipes