Turtle-shaped Glutinous Rice Cakes/Ang Ku Kuih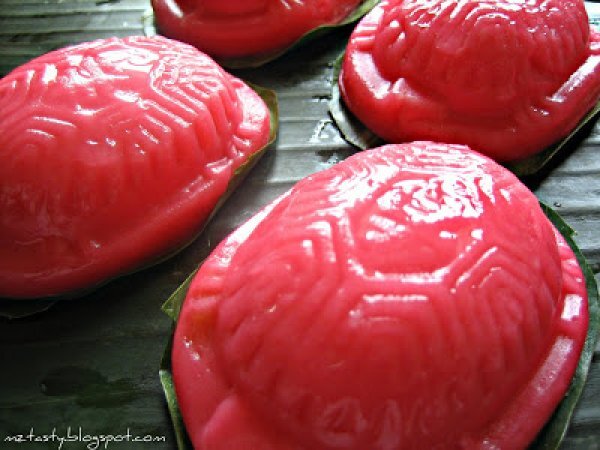 Preparation
Wash and soak mung beans overnight to soften. Drain well and steam mung beans with pandan leaf for about 20-30 minutes or until soft. Mash finely and set aside.
In a pot, mix mashed beans, sugar and oil and cook over medium heat. Stir continuously until mixture is thick and almost dry. Set aside to cool. When cool enough to handle, rub some oil in your palm and roll them into small golf sized balls.
In a large bowl, mix the dry ingredients, mashed potato and sugar together. Mix the pandan essense, oil, red coloring and 1/2 of the water together in a small bowl. Add this to the flour mixture. Mix and knead the mixture to form pliable dough, by adding little water at a time if necessary. Cover with cloth and set aside.
Brush the mold with some oil and dust with some rice flour. Shake off excess flour. Take a small amount of dough and flatten to a round, put a ball of the filing in the center. Wrap skin over and close back to a ball making sure the filling is concealed. Press it into the mold and lightly tap it on the table to remove. Place it on a banana leaf. Do the same with the rest of the dough and fillings.
Trim around the raw dough before steaming. Fill a steamer with water and steam the kuih on the top rack for 10-15 minutes. Set aside and brush lightly with some oil on top.
Questions:
You may like
Recipes