Vanilla bean cupcakes with raspberry curd swirl and raspberry italian meringue buttercream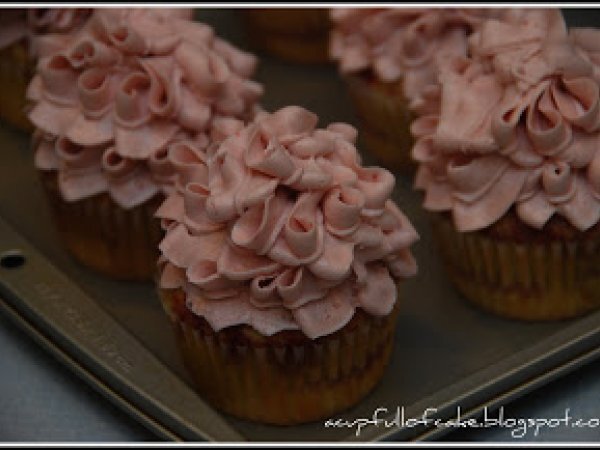 Preparation
Position a rack in the middle of the oven and preheat to 350 deg F. Line a standard cupcake/muffin pan with paper or foil liners. In a bowl whisk together flour, salt, baking powder. Set aside.
In another bowl measure out the sugar and scrape the vanilla bean seeds into the sugar. Work the sugar and seeds between your fingers until the seeds are well mixed in and the sugar is very fragrant.
Cream butter and sugar in stand mixer on med speed until light and fluffy, 2-3 minutes. Add the eggs one at a time, mixing well after each addition. Bead it vanilla and sour cream.
Alternate the flour in 3 additions with the milk in 2 additions. Not waiting til all the flour is mixed in before adding the milk. Beating on lowest speed until just combined. Scrape down sides of bowl and mix on med speed for 30 seconds until no traces of flour remain.
Divide the batter evenly among the prepared cupcake cups, filling each about ¾ full. Bake until lightly golden, when a toothpick inserted in the middle comes out clean or the top bounces back when lightly pressed. 16-20 min.
Let the cupcakes cool in pan for 5 min then transfer to a wire rack to cool completely before frosting, at least an hour.
Nutritional informations:
for 1 serving
/
for 100 g
Carbo:

84.1g

Total fat:

10.5g

Saturated fat:

5.5g

Proteins:

9.1g

Fibers:

1.5g

Sugar:

63g

ProPoints:

13

SmartPoints:

23
Questions:
Related recipes
Recipes