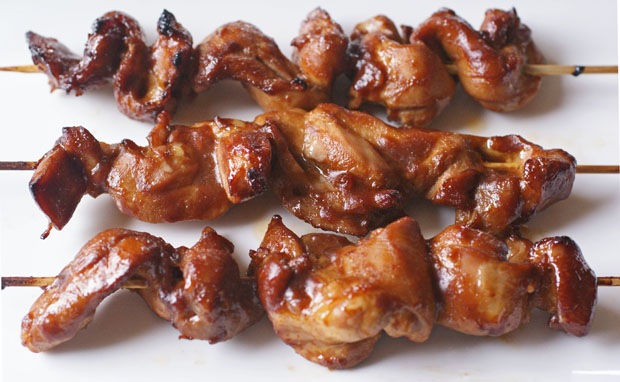 My husband is a big fan of sriracha sauce. I wasn?t until I tried my friend Jennifer?s Sriracha Chicken Wings. (She also has a recipe for Crispy Baked Panko Sriracha Chicken Tenders on her blog, Savoring the Thyme.)
I made her sriracha chicken wings for the Super Bowl and loved them. Still, I was a little freaked out about eating wings due to all the fat from the chicken skin. Wanting to ?health it up,? I used thigh meat in my Sriracha Chicken Skewers. You could also use chicken breast since it?s leaner and lower in Weight Watchers POINTS, calories and fat.
Serve the sriracha chicken with stir fried vegetables and brown rice or quinoa. You can also double or triple the recipe for a terrific party appetizer.
Sriracha Chicken Skewers
Serves 4
Ingredients:
1/4 cup amber agave nectar
1/4 cup low sodium, gluten free soy or tamari sauce
1 tablespoon sesame seed oil
1 1/2 teaspoons ground ginger
2 tablespoons lime juice
2 large garlic cloves, minced
2 tablespoons sriracha sauce
4 chicken thighs (about 1 1/2 pounds)
bamboo skewers
1 tablespoon tapioca or corn starch
Directions:
Slice chicken thigh meat into 1 inch strips. Place into a food storage container large enough for chicken and marinade.
Combine agave through sriracha ingredients in a bowl and stir until combined.
Pour over chicken and place lid on container. Shake so chicken is completely covered with marinade.
Place container in the refrigerator and marinate for a minimum of one hour.  Overnight is ideal for maximum flavor.
Soak 10 bamboo skewers in water for 10 to 20 minutes.
Preheat oven to 450 degrees.
Prepare the baking sheet by covering it with foil for easier cleanup. Then place an oven safe cooling rack on it. (Cooking it on a rack helps to caramelize the marinade glaze.)
Remove meat from marinade and thread on to skewers.
Pour marinade into a small sauce pan and bring to a rolling boil.
Mix one tablespoon of starch with an equal amount of water. Stir to produce a slurry. Pour slurry into boiling marinade and stir. It should immediately thicken. Once it thickens remove from heat.
Take a pastry brush or spatula and brush thickened marinade sauce on to both sides of the skewered chicken.
Evenly place chicken skewers on racks and put baking sheet into the oven.
Bake for 15 to 20 minutes or until cooked through.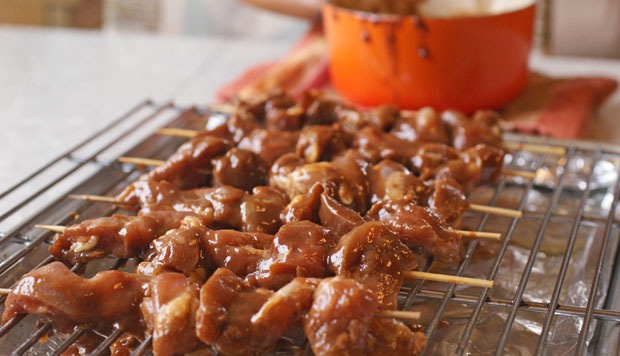 Nutritional information
1 serving is approximately 6 ounces of chicken
Chicken thigh:
Calories 383
Calories from Fat 129
Total Fat 14.4g
Saturated Fat 3.7g
Cholesterol 151mg
Sodium 515 mg
Total Carbohydrates 11.1g
Protein 49.8g
Nutrition Grade B- from CalorieCount 
Weight Watchers POINTS = 9
Chicken breast:
Calories 341
Calories from Fat 70
Total Fat 7.8g
Saturated Fat 2.0g
Cholesterol 145mg
Sodium 494mg
Total Carbohydrates 11.1g
Protein 53.3g
Nutrition Grade B from CalorieCount
Weight Watchers POINTS = 7
This Mama?s tips
You can prepare the marinade and chicken in the morning and then bake the chicken skewers for dinner.
Sriracha Chicken Skewers is a post from: This Mama Cooks! Stop by for more healthy recipes!