The secret files of the foodisphere revealed that :
4. There is no Salmon In Japan
Salmon has always been my all-time favorite fish for eating raw. Imagine our utter shock and surprise when we realized that Kyubey (and other high end sushi restaurants in Tokyo) do not serve salmon! Salmon in Japan is imported, and since Kyubey only serves the freshest local fish from Tsukiji, you won?t find a sliver of salmon there.
Source da sushi connoisseur
I'm afraid they are not realising that their salmons are impostors in Tsukiji market.
False ?
?? ginzake,silver salmon has been introduced in rivers of Miyagi in 1976.
I don't comment there because she is participating to some blogger's pageant. It's useless, someone told her that was absurd that there was ikura if there would be no salmon, but she is the teacher that knows better. LOL. So I won't go and spoil the party and I am posting after the voting.
As another competitor for Miss Blog said :
One of my biggest problems with restaurant reviews is that they?re written by people with a limited understanding of they food they?re critiquing. I?m guessing you?d be a little concerned if your dentist tried to sell you hemorrhoid medication. So why on Earth would you listen to some Brooklynite prattle on about food from a place he?s probably never been to?
Source : the famous masked cucumber
??. Pas mieux.
Well, I don't know much. I am sure I eat Japanese salmon sometimes…
There are seasons for the different wild salmons as they travel, and reach Japanese coasts in different places, from different origines. Hokkaido Autumn salmon season is finishing, but there is some nearly year round. The Japanese started the farming baby salmons (to put back in rivers) at least 100 years ago. Farmed Atlantic salmon, etc, is also imported. It's very different, fatter.
Salmon cannot be eaten *really* raw safely, because of parasites. Specifically trained fishmongers can avoid contamination, or check which fishes are OK, at the condition they get the whole fish alive. I mean the small beasties are in the intestines of fish as long as it's alive and they move into the flesh, so cutting away the digestive part quickly can do the trick. Now they can prepare sashimi it by freezing (in a pro super-cold and super quick freezer) and killing the parasites.
In Japan, it's easy for us. All fishmongers are trained to prepare sashimi. They do the necessary sorting, freezing, curing. We buy fish and seafood "for sashimi". In other countries, you may not find that offer. So for "safe from parasites" sashimi, take frozen fish, or freeze raw fish (that you fish or buy) during a few days. Then, no guarantee about other problems (metal contamination, E-coli, allergies…), but it's like that with any food.
Hokkaido Autumn salmon, in papillote.
Ikura (= sujiko) are the roe of salmon. They are mostly farmed, from what I understand. It seems the roe of wild fish is mostly sold to hatcheries.
We find ikura prepared, like on the photo, most of the time. They are prepared in brine (with soy sauce) and separated. At the market, we can sometimes buy pockets of the roe. The color is a darker red. Then you have to take away the skin, and pass them in a brine. I should have a photo somewhere… but I don't remember where. So I'll borrow one :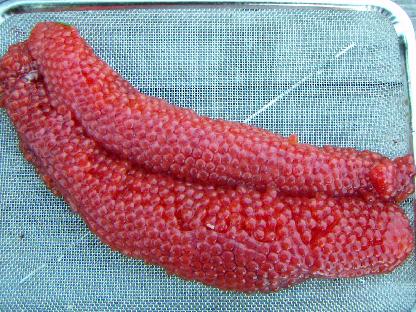 From there, click to see the roe in brine, and then finished.
Filed under: Ingredients, Japan/ cuisine japonaise, Uncategorized Tagged: brunch, fish, ginzake, Hokkaido, ikura, Japanese fish, Miyagi, oeufs de saumon, river fish, sake, salmon roe, sashimi, sea fish, shake, side dishes, sujiko, Tsukiji, wild salmon