Chicken pate with pistachios - video recipe !
Chicken pate with pistachios - video recipe !
A really nice spread recipe with pistachios and mustard !
Ingredients
---
---
---
- 1 stock cube
---
- 1 bouquet garni
---
- 3.5 oz white wine
---
- 7 oz water
---
---
---
- 2 oz pistachios
---
- salt
---
- pepper
---
- butter
Preparation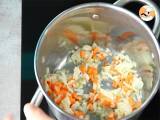 Step 1
Peel the carrot and the onion, and finely mince them. In a pot, cook them in some butter.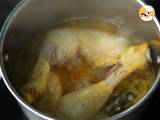 Step 2
Add the thighs and pour white wine. Bring it to boil. Add the bouquet garni, the stock cube, the salt and the pepper. Finally, pour the water, and let it cook for 40 minutes at low heat, covered.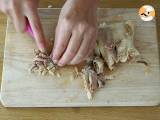 Step 3
Keep the stock and put it in the fridge. Put the onions and carrots aside. Take the skin out of the side. Then take the flesh and mince it.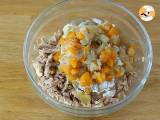 Step 4
Add to the minced eat the mustard and the cream. Take the grease out of the stock, which should be still. Put 4 Tbsp of this grease into the mix.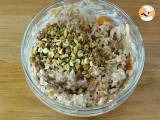 Step 5
Add the onions, carrots, and crushed pistachios. Put in the fridge for a few hours.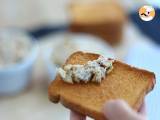 Step 6
There you are, your chicken pate is ready !
---
---
Related recipes
Recipes
Related articles