Yam / Orange Fleshed Sweet Potato Chaat {Updated}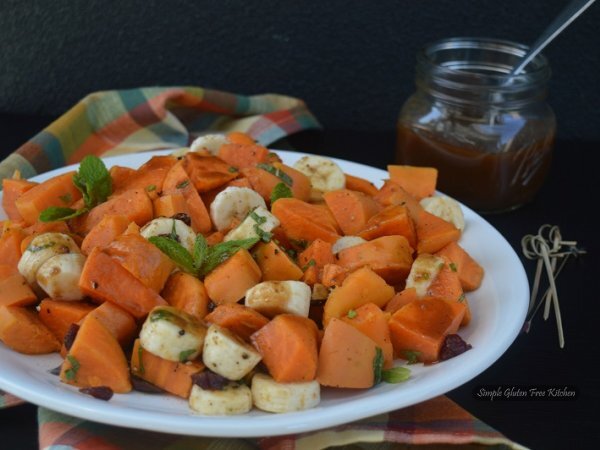 Easy appetizer
Preparation
Method:

Soak cranberries in orange juice for 1 hour or overnight.

Bake, boil or microwave yams till tender but not mushy. Let it cool by itself or dunk them in ice cold water.

Peel and cut them into bite size pieces.

Put them in a large bowl. Slice the bananas and place them sweet potatoes.

Add all the remaining ingredients including orange juice soaked cranberries.

Gently toss or mix with salad spoon.

Sweet potato chaat is ready to be served.

Date and tamarind Chutney

Soak tamarind in 1 cup hot water.
Remove seeds and strain the pulp in a steel saucepan. add some water to fully squeeze out the pulp.
Chop dates and add it to the tamarind pulp. Add 1/2 cup water and bring it to a boil.
Reduce heat and let it simmer. Add the remaining ingredients. Cook till the dates get softened.
Remove from heat and let it cool for 5 minutes.
Blend the chutney with an immersion hand blender or in a stand blender till you get the desired consistency (its ok if there are any small pieces of dates left). Add more water if you like it thin.
Transfer in a glass bottle. You can keep this chutney for about a month in the fridge.
Questions:
You may like
Recipes