Adadiya pak kathiyawadi winter cake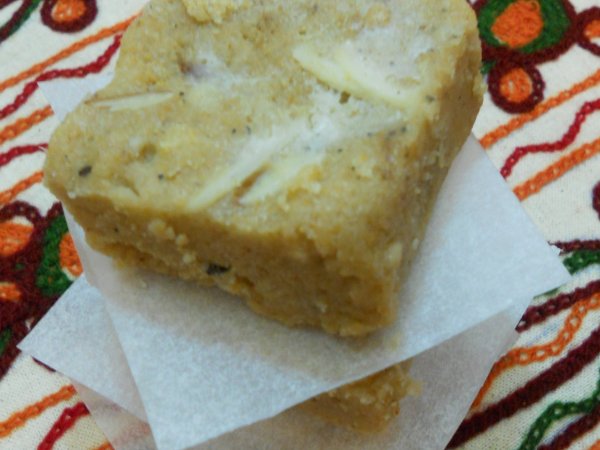 Preparation
Take 2 cups split black gram flour. (The urad dal flour should be coarse like suji, make sure its not in powder foam).

In large bowl combine flour, 1/4 cup clarified butter and milk mix thoroughly. We called in this process dhabo.

After half hour sieve this flour by pressing mildly. Set aside.

In heavy bottomed pan Heat the clarified butter and fry edible gum on high flame. Set aside.

Chopped edible gum uneven and make coarsely powder using a mortar.

Add the flour in clarified butter and sauté it on a low flame stirring continuously till light brown or 25 to 35 minutes.
Once it is browned add finely chopped edible gum.

Mix well turn off the flame, let it cool 10 to 15 minutes.

Add in this mixture all spices powder, sugar and coconut mix very well.

Spread it on a square or round plate garnish with almonds and cool 3 to 4 hours than cut.

For make typical adadiya shape (like Small Mountain) cool this mixture about 2 hours.

Take some mixture in plate and pressing with your finger give shape like mountain and again cool 2 to 3 hours they are hard and ready to eat.

Store in an airtight container eat one or two pieces in breakfast with milk.
Questions:
You may like
Recipes
Related articles