Black forest cake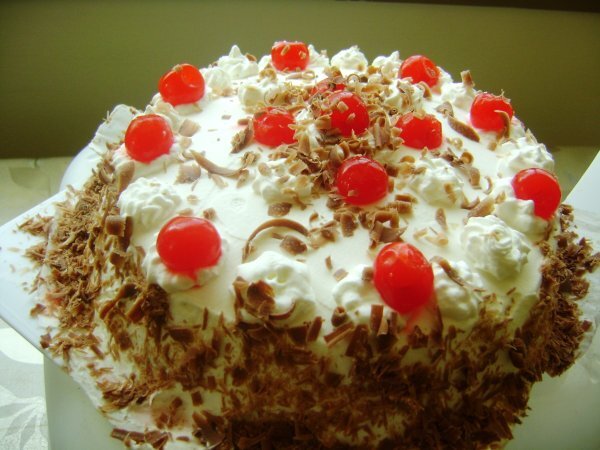 Recipe type:

Dessert

Number of serving:

8 servings

Preparation:

1 hour

Cook time:

25 min

Ready in:

1 h, 25 m

Difficulty:

Easy
Ingredients
Chocolate Genoise:
Unsalted
butter
- 3 tbsp hot and melted
All purpose flour - 1/2 cup minus one tbsp sifted
Corn flour - 1 tbsp sifted
Salt
- 1/4 tsp
Baking powder - 1/2 tsp
Unsweetened
cocoa
powder - 1/3 cup
Eggs
- 4 large
Sugar
- 2/3 cup
Vanilla extract - 1 tsp
Whipped Cream Frosting:
Heavy whipping cream - 2 1/2 cups
Vanilla extract - 1 tsp
Sugar - 3 tbsp
Cherries:
Cherries in syrup - 700 ml
Sugar - 1/4 cup
Preparation
Step 1
Cherries and sugar syrup:

Drain the cherries and keep it aside covered. Reserve the syrup from the cherries.
Place 1 cup of the cherry syrup and sugar in a heavy bottomed vessel and heat on medium flame until sugar dissolves. Remove from flame and let cool completely.
Step 2
Chocolate Genoise:

Preheat oven to 180 degree C. Line a 9" pan with parchment paper and grease it as well.

Whisk together all the dry ingredients in a bowl.

In a heatproof saucepan whisk together the eggs and sugar. Simmer water in a wide mouthed vessel and

Place saucepan in the simmering water and heat, stirring continuously, until the mixture is lukewarm, which will take approx 5 mins.
Now pour this into a mixing bowl and beat on high speed till the mixture is thick and mousse-like. When you raise your beater slowly, the egg mixture should fall like a ribbon.
Add vanilla and beat till incorporated.
Tip in the dry ingredients and fold in slowly without deflating the batter until well combined.
Pour quarter portion of the batter into the melted butter and mix well to lighten it and then pour it back into the main bowl and mix uniformly.

Pour the batter into the prepared pan and bake for 25 mins or till a toothpick inserted in the centre of the cake comes out clean and the cake is springy to touch.

Let cake cool completely on a wire rack before frosting.
Step 3
Whipped Cream Frosting:
Place whipping cream, sugar and vanilla in a bowl and beat to get stiff peaks.
Step 4
Assembly:
Cut the cake horizontally into 2 equal halves.
Place the upper half of the cake with the cut side up on the serving dish.
Pour half of the soaking syrup on the cake.
Lay all the cherries on this layer, reserving some for garnish.
Spread half cup of the frosting over the cherries leaving the edges.
Place the second layer of cake on this with the bottom side up to get an even, smooth surface to work on. Soak with the remaining syrup.
Cover the top and sides of the cake with frosting and try to get a smooth, even surface.
Decorate as desired and garnish with the reserved cherries.
Cover with chocolate shaving.
Refrigerate the cake for 4 hours or ideally overnight to allow the flavours to blend well. Serve straight out of fridge.
Questions:
---
---
Related video
Related recipes
Recipes