Corn flour halwa / corn halwa
Corn flour halwa / corn halwa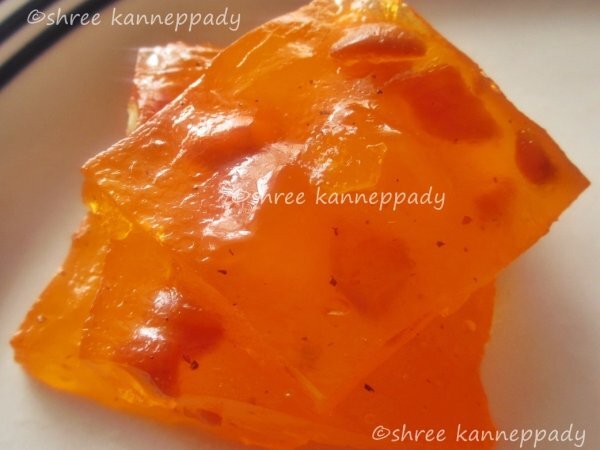 Halwa refers to many types of dense, sweet confections.
Ingredients
Corn flour : 1/2 cup
---
Sugar powder : 1 and half cup
---
Ghee : 2 to 3 Tspn
---
Water : 2 Cup
---
---
Cashews : 6 no.s
---
Food color : A pinch
Preparation
In a pan heat ghee and fry the cashews till it turns to golden color and keep it aside.

In a microwave safe dish ( preferably big one ) mix the corn flour,sugar powder,food color and water without any lumps.

Microwave this for 4 minutes.
Take bowl out from the microwave and add cardamom powder and cashews along with ghee into it, mix well for 1 minute.

Microwave this mixture again for 3 minutes.
In the mean time grease the steel plate with ghee and keep it ready.

Take out the bowl from microwave and stirr it for 30 seconds and again microwave it for 4 minutes.
Now pour the mixture into greased plate and keep it aside to set for 30 to 40 minutes.
Cut halwa into desired shape and serve.
Related recipes
Recipes