Gluten free apple and cinnamon mini muffins
Gluten free apple and cinnamon mini muffins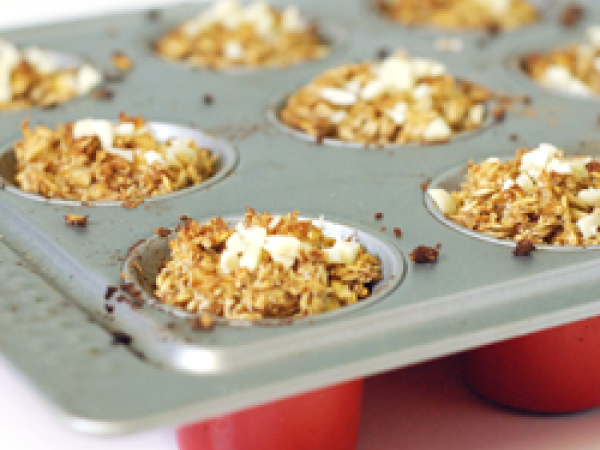 Gluten Free apple and cinnamon mini muffins with oats and apple crumble topping. Smells amazing!
Ingredients
1/4 cup of organic rolled
oats
(pre-soaked for at least 8 hours)
---
1 tbsp of
coconut
palm powder/sugar
---
---
1/4 cup of shredded coconut
---
1/4 organic granny smith
apple
(you'll need 1 apple for the entire recipe)
---
1/2 cup of organic coconut flour
---
1/2 tsp of organic baking soda
---
1 1/2 tbsp of organic cinnamon
---
1/2 cup of organic shredded coconut
---
2 tbsp of organic flax seed meal
---
---
3 tbsp
Preparation
Preheat oven to 325 degrees F.
Mix dry ingredients first. (Mix well) Set aside.
Mix coconut oil, and eggs in a small mixing bowl. Then add to dry ingredients.
Mix all ingredients well until crumbly.
Peel the apple skins and remove core. Toss the core and eat the apple skins. (There is lots of nutrition on the apple skins and it will provide you with some enzymes you need to digest this treat.)
Dice apple and place 3/4 worth of chunks into the large mixing bowl.
Mix crumbly dough with the apples.
In a small mixing bowl, add the soaked oats, shredded coconut, sugar, cinnamon and remaining apple chunks. Mix well. The moisture from the soaked oats should somewhat bind the ingredients together. Set aside.
Separate dough into 8 parts. Using a spoon, scoop out each part and place in muffin tray.
Top off each muffin with the crumbly oats mixture, evenly.
Place in oven and bake for 20-25 minutes or until the top and edges are brown.
Remove from oven and let cool.
Questions:
Related recipes
Recipes