Pasteis de nata, little portuguese egg tarts
Pasteis de nata, little portuguese egg tarts
or
Go all the way to Portugal to have these sweets little egg tarts, flavored with lemon and cinnamon.
Ingredients
1 puff pastry sheet
---
---
---
1/4 cup flour
---
---
1/3 cup water
---
Materials
12 pasteis de nata molds
---
Preparation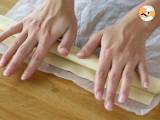 Step 1
Roll the puff pastry and slice it in 12 pieces.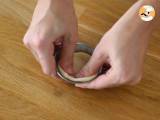 Step 2
Grease your molds, and put a piece of pastry in each of them (as shown in the video). Press on it with your fingers to spread the dough in the mold.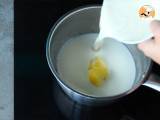 Step 3
Put 2/3 cup of milk to heat with the lemon peel. Mix the flour with the milk that is left (1/3 cup). Once the milk starts to boil, add the milk+flour mix, and stir constantly using a whisk. The mix should thicken in a few minutes.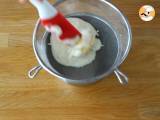 Step 4
Pour this batter in a strainer to take the lemon peel and the clots out. Put the water and the sugar to heat in a pot.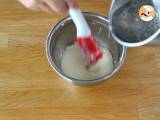 Step 5
Once it starts to boil, leave it for 4 minutes. Then, pour in a thin stream on the milk cream, while stirring. Leave to cool down for a few minutes.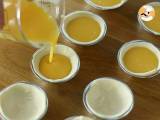 Step 6
Finally add the egg yolks and stir well. Pour this batter into each mold, without reaching the rim.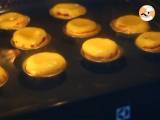 Step 7
Bake 15 minutes at 450°F (230°C)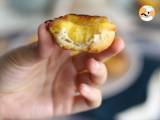 Step 8
There you are, your Pasteis de Nata are ready! You can sprinkle them with cinnamon!
---
---
Related recipes
Recipes