Pineapple sponge cake
Pineapple sponge cake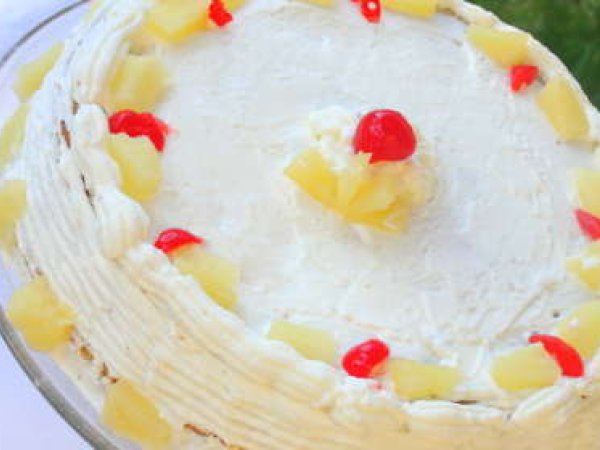 Parmesan Cheesy Crust
Cheese in, cheese on, cheese out. Try the New Parmesan Cheesy Crust.
Preparation
Preparing the Sponge Cake:
1. Heat oven to 350 degrees F and grease a 9-inch baking tray.
2. In a small bowl, sift together the flour, cornstarch, baking powder and salt. Keep aside.
3. In the bowl of your electric mixer (or using electric hand blender) using whisk attachment, beat together the egg yolks, vanilla essence and 1/2 cup of sugar on high speed until thick and pale. The mixture will double in amount. Transfer the egg yolk mixture to a bowl and clean and wipe dry the mixer bowl and whisk attachment.
4. Now beat the egg whites with rest 1/2 of sugar at medium speed until stiff and glossy about 3-4 minutes.
5. Fold the egg yolk mixture into egg white mixture and mix lightly with the use of a spatula.
6. In three additions, add the flour mixture mixing lightly after each addition.
7. Now transfer the batter to the greased baking pan and smooth the top with an offset spatula.
8. Bake for 30-35 minutes or until a toothpick inserted in the center comes out clean.
9. Let the cake cool for 10 minutes before transferring to the cooling rack.
10. Let it cool completely on a cooling rack.
Preparing the icing:
1. Put the bowl of your electric mixer and whisk attachment in the freezer for 5 minutes.
2. Add the heavy cream and sugar in the chilled bowl and using whisker attachment beat for high speed until it forms a soft peak. It won't take more than 2-3 minutes.
Assembling the cake:
1. Cut the cake in half horizontally using a sharp knife to make a 2 layer cake. You can also make a 3 layer if you want.
2. Now sprinkle some sugar syrup and pineapple juice on the 1st half of the cake. Spread a layer of icing and some pineapple chunks.
3. Put the second layer on the cake. Poke the cake at some places using a fork and sprinkle the sugar syrup and pineapple juice.
4. Now cover the whole cake with icing and even the top and sides with a help of a flat spatula or cake decorating spatulas.
5. Decorate as you like with cream, pineapple and cherries.
6. Chill the cake in the refrigerator.
Questions:
You may like
Recipes
Related articles