Saffron & cinnamon poached pears
By
nava-k

Something unique, something different, made with 4 ingredients.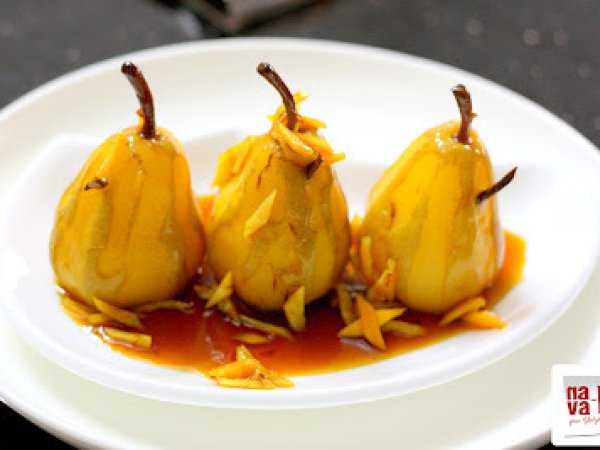 Recipe type:
Dessert
Number of serving:
6 servings
Preparation time:
25 minutes
Cook time:
45 minutes
Ready in:
1 h, 10 m
Difficulty:
Very Easy
Ingredients:
3 green pears - Peel the pears; either all of the skin or peel to create a pattern as you like. Leave the stem intact.
1 tsp saffron threads
3-4 small sticks of cinnamon
1/2
lemon
- squeeze the juice out and peel the skin into small pieces
1/4 cup white/brown sugar
2 cups of water.
Preparation:
Rub lemon juice all over the pears.

Add all ingredients into a pan (including the pears) and simmer.

Continue to cook, turning the pears occasionally so that they become saturated evenly.

When the pears becomes tender, remove and place on a serving plate.

Continue simmering the syrup, depending on how thick you like the syrup to be.

Pour the syrup on top of the pears before serving.
Print this page
Add to favorite
By
nava-k

Questions:
Related video
Related recipes
Recipes