Tapioca pudding ( sabakki paayasam)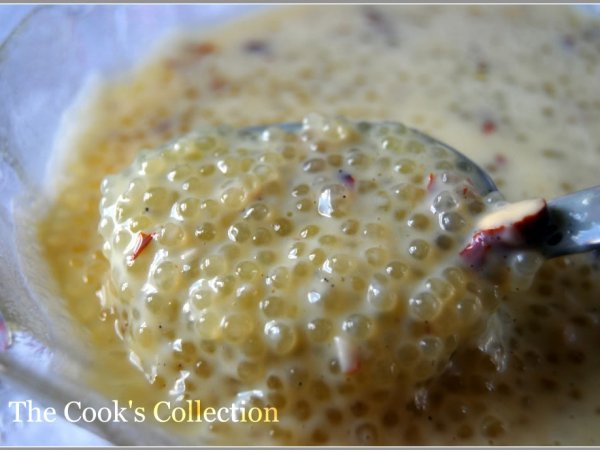 Preparation
In a large pan, fry Tapioca pearls with a teaspoon of ghee for about 2 minutes on high flame, just to warm it up a little bit.
Pour about 300 ml of water and cook on medium to high flame with constant stirring every couple of minutes. Keep adding water if the water gets dried up.
It'll take about 15 to 20 minutes. Be patient and make sure the entire pearl gets transparent. See that the white part of the pearls disappears. Thats when the tapioca is cooked.
Now add the Sweetened condensed milk along with saffron and cardamom powder and let it come to a boil. You can add a little milk to get the right consistency. And you can even substitute sugar for condensed milk and add more milk instead.
After it has reached the right consistency, take it off the heat and let it cool a little bit. Serve warm ,cold, or chilled topped with crushed almonds.
Questions:
Related recipes
Recipes