The driskill's 1886 room chocolate sheet cake (visit site!)
The driskill's 1886 room chocolate sheet cake (visit site!)
This incredibly moist cake, that you bake in a sheet pan, and while it is still warm, you pour the warm icing over the cake, is a cherished recipe of the Heritage Society of Austin! In addition, because this cake is so moist, you can even make it up to 2 days ahead, covered and refrigerated! It's perfect for any celebration!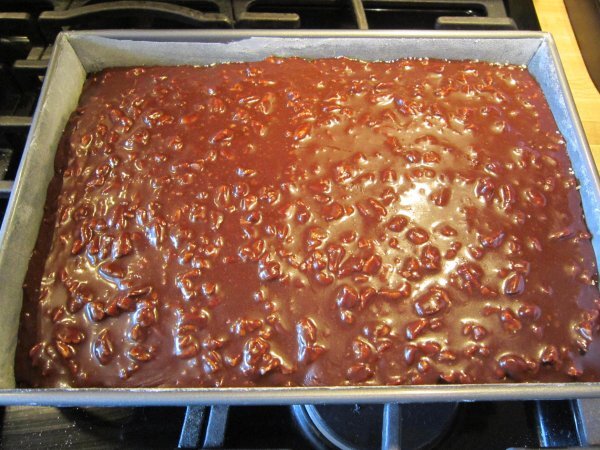 Preparation
For the Cake
Preheat the oven to 350 degrees. Grease and flour a 9"x13" cake pan.

Melt the butter in a large, heavy saucepan over medium heat. Remove the pan from the heat and add the water and cocoa, stirring well.

Sift together the flour, sugar, and salt, and stir them into the chocolate mixture.

In a large bowl, combine the eggs, buttermilk, vanilla, and baking soda, add the chocolate mixture, and mix well.
Spoon the cake batter (or gently pour) into the prepared pan, and bake 30 minutes, or until a toothpick inserted in the center comes out clean.
For the Icing
While the cake is baking, melt the butter with the cocoa in a heavy saucepan over medium heat. Add the half-and-half, and heat it through. Mix in the remaining ingredients, blend well, and remove the pan from the heat.
Finishing the Cake
While the cake and icing are still warm, gently pour the icing over the cake. Serve the cake warm or at room temperature.
Questions:
You may like
Recipes
Related articles