I hope everybody had a wonderful Easter! I worked on Easter so I missed all the good food and fun with family. The restaurant was a madhouse starting Friday all the way through till Monday. Since I missed all the fabulous food from Easter, tell me what your favorite part of the meal was so I can drool!! LOL!!! I'm a little behind in reading your blogs but will get caught up today. Cookie (Carol) has a great Ham and Corn Chowder recipe that you can use some of that leftover ham for , and a tasty Broccoli Cheese Fan to go with it. I made a Strawberry Cream Pie to top off the meal. We've added a new feature to the blog. You can now print just the recipes without the post and pictures. Each recipe can be printed separately, saving you paper and ink! Just look for the : Wanna print just the recipe, click here! Nuff said , recipes please.....
Ham and Corn Chowder
OK, I'll confess...I'm not a big fan of ham...there, I said it.....BUT Bob really likes it every so often. SO-while fighting the crowds of people at the grocery store the day before Easter and getting stuck in a "traffic jam" near the meat counter, I noticed a great price on spiral hams, found a small one and said what the hey.....ham it is. I cooked it on Saturday and figured I'd do something creative with it on Sunday. Easter was cold and windy and definitely a day for a nice thick, creamy chowder. This recipe is one of my all-time favorites when I have ham that I want to use. It's easy to put together too...another plus. The jalapeno adds a nice "warmth" to the chowder but doesn't make it "hot". I use the higher amount of cayenne because we like things on the spicy-hot side....if you don't like it spicy, use the lesser amount, but DO use it. I like the addition of shredded cheese, but by all means, you can leave it out if you'd like.If you're wondering what to do with that leftover Easter Ham, I hope you'll try this chowder!
Wanna print just the recipe, click here!
Adapted from Quick Cooking Magazine....
HAM AND CORN CHOWDER
2 celery ribs, finely chopped
1/4 c. chopped onion
1 jalapeno pepper, seeded and finely chopped*
2 Tbsp. butter or margarine
2 Tbsp. all-purpose flour
3 c. milk (low fat or skim milk may be used with great results)
2 c. cubed fully-cooked ham
2 c. cubed cooked potatoes
1 1/2 c. fresh or frozen corn
1 (14 3/4 oz.) can cream-style corn
3/4 tsp. minced fresh thyme OR 1/4 tsp. dried thyme
1/8-1/4 tsp. cayenne pepper
1-2 c. shredded cheddar cheese, optional
In a Dutch oven, saute celery, onion and jalapeno pepper in butter until vegetables are tender. Stir in the flour until well blended. Gradually add milk. Bring to a boil; cook and stir for 2 minutes or until thickened. Stir in remaining ingredients; bring to a boil. Reduce heat, cover and simmer over low heat for 10 minutes or until heated through. Turn off heat and add shredded cheese (if using); let sit a few minutes, then stir until cheese is melted. 8 servings. *DON'T let the jalapeno pepper (or the addition of cayenne pepper) scare you-it doesn't make this chowder spicy-hot at all-it just adds a really nice flavor to it. You can omit them if you'd like, but honestly-I strongly suggest adding them both.
Broccoli Cheese Fan
I knew I wanted to make some kind of savory bread to go with the Ham and Corn Chowder...and there were SO many good recipes to choose from! Bob finally settled on this one. I thought the bacon and broccoli would be a good compliment to the creamy chowder.It's really good....but I have to tell you-I think the filling needs a little more OOMPH if you know what I mean. The next time I make this-and yes, there will be a next time, I think I'll mince a clove or two of garlic, finely chop some fresh onion and saute them in a little oil...I'll use that in the filling instead of the dried onion. Also...I really think freshly shredded Parmesan cheese would be a great addition to this filling with or instead of the cheddar cheese.The bread is a tad crispy on the outside but nice and soft on the inside. We really enjoyed it a lot and it tasted wonderful with the chowder....it would be a great bread with pretty much any kind of soup. The leftovers are great warmed quickly in the microwave, or wrapped in aluminum foil and warmed in a 250 degree oven until heated through.
Wanna print just the recipe, click here!
From "Best of Country Breads" cookbook....
BROCCOLI CHEESE FAN
3 1/4-3 1/2 c. all-purpose flour
1 Tbsp. sugar
1 (1/4 oz.) pkg. quick-rise yeast
1 tsp. salt
1 c. water
1 Tbsp. butter or margarine, softened
1 1/2 c. finely chopped broccoli, cooked and drained
1 c. (4 oz.) shredded cheddar cheese
5 bacon strips, cooked and crumbled
1 egg
1/2 tsp. dried minced onion
1/2 tsp. dried oregano
1 egg white
1 Tbsp. water
In a mixing bowl, combine 2 1/4 c. flour, sugar, yeast and salt. In a saucepan, heat water and butter to 120-130 degrees. Add to dry ingredients; beat until smooth. Stir in enough remaining flour to form a soft dough. Turn onto a floured surface; knead until smooth and elastic, about 4 minutes. Cover and let rest for 10 minutes. Meanwhile, in a bowl, combine broccoli, cheese, bacon, egg, onion and oregano.On a lightly floured surface, roll dough into a 16x9-inch rectangle with a 16" side facing you. Spoon broccoli mixture lengthwise over top 2/3 of dough to within 1" of edges. Starting at the plain long side, fold dough over half of the filling; fold over again. Pinch seams to seal and tuck ends under. Place seam side down on a greased baking sheet. With a sharp knife, cut into 8 strips (not all the way through the dough) within 1" of pinched edge. Separate strips slightly; twist to allow filling to show.Place a large shallow pan on the counter; fill half full with boiling water. Place baking sheet containing bread over water-filled pan. Cover and let rise until doubled, about 15 minutes. Beat egg white and cold water; brush over dough. Bake @ 400 degrees for 25 minutes or until golden brown. Remove from pan to a wire rack, Serve warm. Refrigerate leftovers. Makes 1 loaf.
Strawberry Cream Pie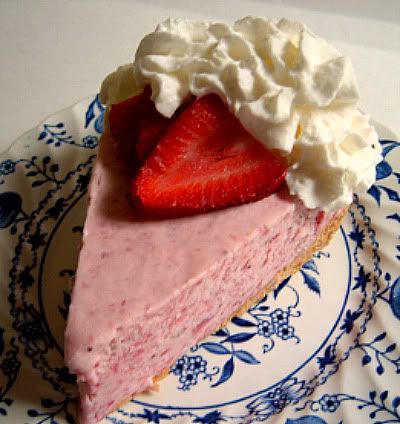 Have you seen the strawberries in the store?? They actually don't look to bad for this time of year! I couldn't resist them so I bought them and decided to make this pie. This recipe came from The Prepared Pantry, I wanted to make it last year but never got around to it so it was the first thing I thought of for the strawberries. Why this recipe? The cream and cream cheese! Plus it's a snap to but together. Another plus is it's a freezer pie, you can make it, throw it into the freeze a couple days before you need it and pull it out. The recipe called for frozen sweetened strawberries, I used 1 1/2 cups of fresh pureed with a 1/4 of sugar mixed in to sweeten them. Since they aren't in season yet I added 1 tsp of strawberry extract to boost the strawberry flavor. I used a graham cracker crust, perfect for the pie! The key to this recipe is keeping the ingredients cold, puree the strawberries and put them into the fridge, whip the cream and put it into the fridge, take the can of sweetened condensed milk and put it in the fridge. Take the cream cheese straight from the fridge before you beat it, it doesn't have to be room temp. After you make the graham cracker crust it goes....yeah in the fridge!! LOL!! There aren't a lot of ingredients you just have to get yourself prepared before you put it together, really it's easy!! I filled the pie crust to the tippy top and still had some left over, no problem just freeze in individual cups!
How good would this be on a hot summer day!!
Wanna print just the recipe, click here!
Strawberry Cream Pie
The Prepared Pantry
Ingredients:
1 nine-inch deep dish pie shell, well-chilled
1 cup whipping cream
4 ounces cream cheese
1 14-ounce can of sweetened condensed milk, well-chilled
1 1/2 cups pureed, sweetened strawberries (strawberries in syrup or strawberries with sugar added
Directions:
Make sure the ingredients and the pie shell are well-chilled.
1. Whip the cream until stiff peaks form. Set in the refrigerator to keep cold. 2. Whip the cream cheese. Beat in the condensed milk and strawberries. 3. Gently fold in the whipped cream. Pour the filling into the pie shell. If the filling ingredients have been kept cold and you work quickly, the shell should overfill to a slight mound. Immediately stick the pie in the freezer to set. Freeze for four hours or more. Serve frozen