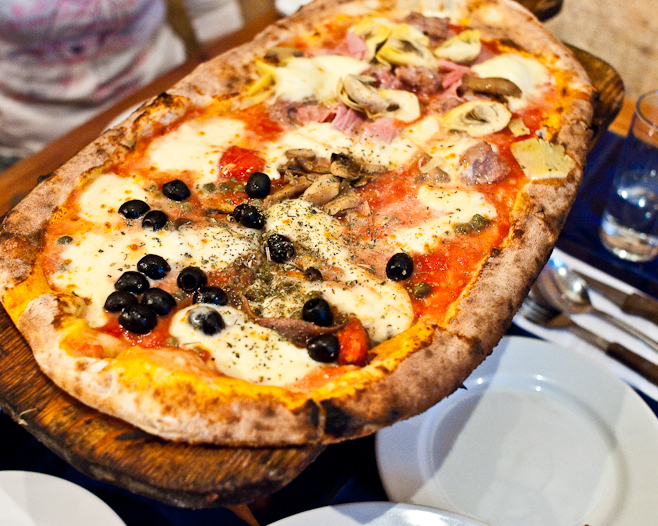 As I was researching (some prefer to say wikipedia) the origins of Pizza, I stumbled across the valiant efforts of an organisation known as Vera Pizza Napoletana (VPN) , or the Real Neopolitan Pizza Association. Obviously, they are non-profit and their goal is to preserve the ?authenticity? of restaurant pizza recipes around the world, and they do this by flying around the world, visiting restaurants either to rubber stamp or to reject pizzas. These guys have created a set of hardcore guidelines which only recognises Magherita and Marinara as true Neopolitan pizzas. They even have a very specific description of what the real thing ought to taste like, and I quote:
(The pizza)? should be soft, elastic, easy to manipulate and fold?.
Talk about Pizza police eh, I wonder if there are any VPN certified doughs in London… Franco?
Made in Italy is part of a franchise of six London based Italian eateries which claim to serve up wholesome Southern Italian recipes, and allege that 90% of their ingredients are flown in from the homeland. I?ll admit that this wasn?t the one which we wanted to visit. We originally wanted to drop in on the sister restaurant Marechiaro – just a few doors from Made in Italy on Kings road ? but it was shut for refurbishments. So back to pizza certification. The VPN regularly sends their master pizza chefs to restaurants that are keen on attaining this supposedly illustrious designation. One of the key considerations of true Neopolitan dough is dimension: 35cm in diameter to be exact ? I guess that means disqualification for Made in Italy?s ?Pizza Metros?. It translates to Pizza metre and legend has it, this mythical technique was descended from grand old Neopolitan doughmasters, serving their prized products on a wooden chopping board and they are unique for different choices of toppings (of separate orders) are prepared and served on the same adjoining base.
I was mightily surprised at the spectacle when they brought the pizzas out ? which does smell amazing ? and the wooden chopping board ceremonious placed on a literary equivalent of a pedestal. Diners had to almost respect the cheese by half getting up from their seats to grab a slice. If memory served me right, we ordered a Capricciosa (£8.50) with Mozzarella, tomato sauce, sausage, mushrooms, artichokes, roasted ham and a Ortolana (£7.95) with Mozzarella, cherry tomatoes, olives, grilled aubergines, sun dried tomatoes. I didn?t whip a tape measure out, but I believed it was half a metre?s worth of proper pizza. It did look massive, and we had to box it up for takeaway afterward. Overall I thought the pizzas were OK… It tasted better than most, with evidence of the smokey goodness of the wood oven being quite evident. However, the pizza didn?t really have an x factor, the dough in particular was too dense for my gentle buds, more plastic than plastecine and the difficulty we had in finishing the pizza (three of us) sort of said it all. Not quite Franco Manca, but it did make for a good cold pizza the morning after.
Being the gluttonous monster that I am, I forced the two tiny female frames to order a couple of starters.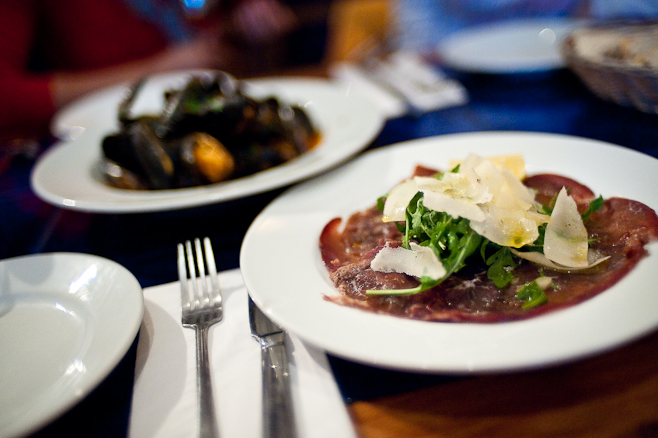 A generous portion of Bresaola, which still carried the rawness of the cured beef (a good thing) and man sized parmesan shavings. On the other side of the table, the girls were tucking away a surprisingly hearty bowl of steamed mussels made with garlic, parsley, red chilli, cherry tomatoes & white wine. Sweet, juicy, appetising, done.
I also wanted to try a pasta dish which sounded outstanding on the menu ? PACCHERI ?A CORE E MAMMÁ? or Paccheri pasta with button mushrooms, Italian sausage, pecorino cheese & ttruffle oil (£10)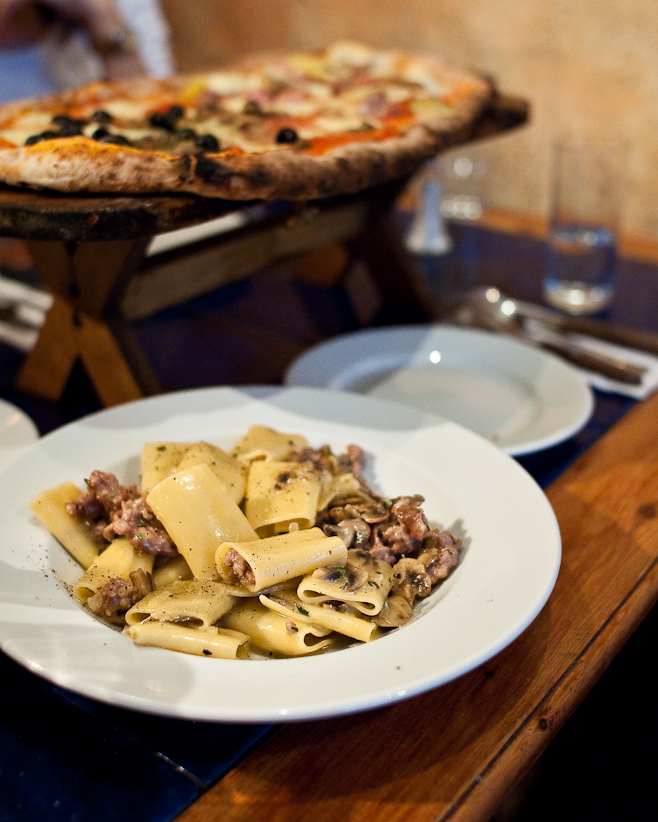 The flavours were really bursting with life and filled the room with a whiff of mushroom. The sauce in particular ? with but a creamy touch of umami, probably courtesy of the pecorino and oil; tinged with a biting spiciness most possibly from the seemingly pan-fried sausages. The deep intensity lingered on?
?On the other hand, I couldn?t finish this dish, as the same deep intensity became too salty and that creaminess became too loud. The pasta was annoyingly heavy and chewy, that eating it was progressively turning into a chore; I simply lost interest. In the end, I thought that the meal was above average. The pizzas were certainly eye opening at first and while it was good, it did not approach the Franco Manca benchmark. Antipasti & pastas were reasonable both in terms of value & taste and overall, mildly exciting at first, but once we got to know each other, it was just another familiar affair. Enjoyable if a little forgettable.
The Gist of It
Made in Italy official site £25pp
249 King's Road SW3 5EL
Tel: 020 7352 1880
Tube: South Kensington
Did you enjoy reading this post? Why not subscribe to my feed updates for free. Alternatively, You can subscribe via email.
Technorati Tags: italian cuisine, king's road, made in italy