Basil Pork Chops with Caesar Penne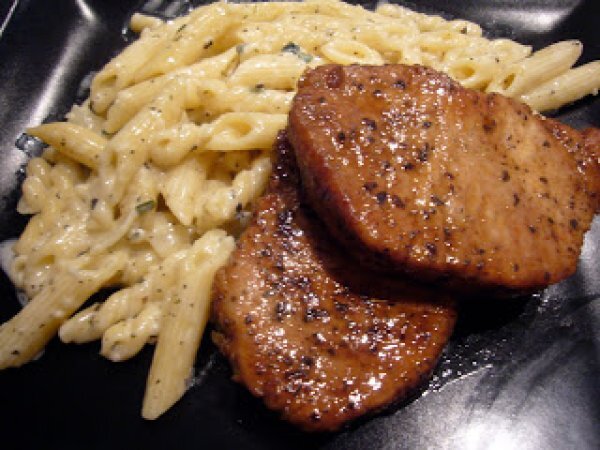 Preparation
Place pork chops in a zip lock bag, and add brown sugar, 1-1/2 tsp dried basil, salt, chili powder, 1 tbsp canola oil. Seal bag and press on bag with fingers to distribute ingredients evenly over pork chops.
Start pot of water for pasta, and salt well. Once water gets to a boil place pasta in pot and cook until el dente. Drain pasta and return the empty sauce pan to the stove.
Add the diced onions, minced garlic, and chicken broth to the sauce pan for 2-3 minutes on medium-high heat. Add Caesar dressing, olives, and green onions. Cook for an additional 2 minutes. Lastly, add the penne pasta back to the pot, mix well, and cook on low until pork chops are done.
Spray a large skillet with non-stick cooking spray and cook pork chops over medium heat 5-8 minutes on each side or until browned and internal temperature reads 160F. Serve the pork chops with the Caesar penne pasta. Enjoy!
Questions:
You may like
Recipes