Chinese bbq pork bun (salapao sai mou daeng)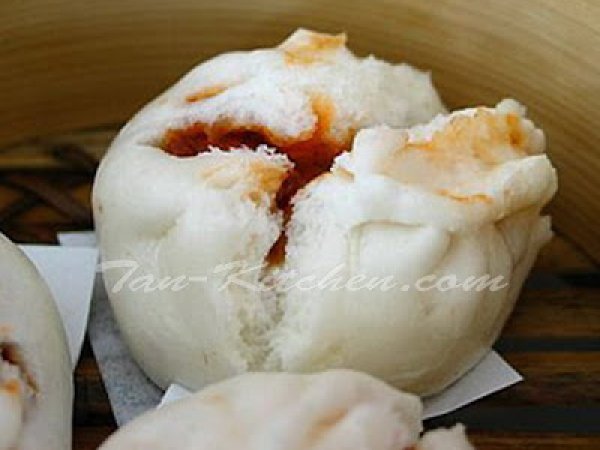 Recipe type:

Main Dish

Number of serving:

1 servings

Preparation:

25 min

Cook time:

15 min

Ready in:

40 min

Difficulty:

Very Easy
Ingredients
- 1.5 cups fermented dough
- 1.5 cups all purpose flour
- ½ cup cake flour
- ½ cup castor sugar
- 1 tsp ammonia
- 1.5 tbsp baking powder
- 2 cups all purpose flour
- ½ cup cake flour
- 1 tsp fermented glutinous
rice
flour
- ¾ cup water
- 2 tsp vegetable oil
- 2 cups Chinese B.B.Q.
pork
- 1 cup B.B.Q. gravy
- 2 tsp wheat flour
- 2 tbsp light soy sauce
- 1 tbsp sugar
- 1 tsp sesame oil
- 2 tbsp vegetable oil
Preparation
Step 1
Mix fermented glutinous rice flour with water and allow to stand for 5 minutes. Stir in both kinds of flour; add the vegetable oil and knead until smooth. Place the dough in a greased bowl, cover and leave overnight.
Step 2
Fry chopped garlic in oil until fragrant add the B.B.Q. pork and stir well. Follow with the wheat flour and gravy, stirring until the flour is done and thickened.
Step 3
Season to taste with soy sauce, sugar and sesame oil. Stir together well, then remove from heat.Mix the dough with ammonia and leave to stand for 5 minutes.
Step 4
Sift both kinds of flour with baking powder, then add to the fermented dough. Add sugar and knead until a smooth dough forms. Divide into 20 gram portions.
Step 5
Spread the dough into thin sheets, making a dome in the center. Place 1 tbsp of the filling in the center and gather the sides to form a nice bun shape. Place each bun on a sheet of paper, and arrange on the dim sum trays.
Step 6
Bring the water in a steamer to a boil; place the dim sum trays in the steamer and steam for 10 minutes. Remove and serve hot.
Questions:
---
---
Related video
Related recipes
Recipes
Related articles
12 delicious ways to celebrate Chinese New Year