Chinese new year kids recipe-long life noodles
By
Barbarab103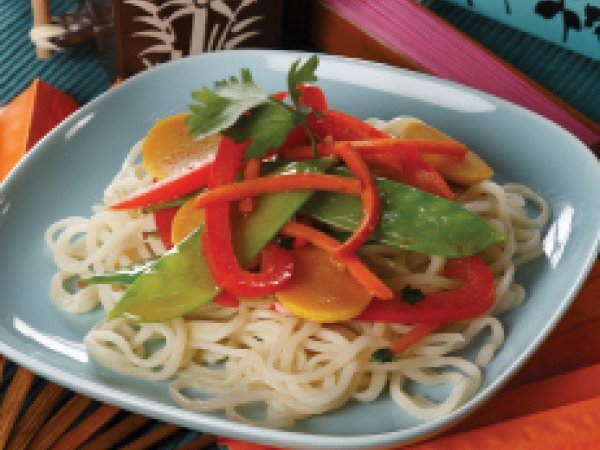 Recipe type:

Main Dish

Number of serving:

7 servings

Preparation:

15 min

Cook time:

25 min

Ready in:

40 min

Difficulty:

Very Easy
Ingredients
- 1 package (8 ounces) soba
noodles
- 1 tablespoon canola oil
- 2 tablespoons dark sesame oil
- 2 cups thinly sliced red bell pepper
- 1/4 cup minced fresh ginger
- 1
clove
garlic, minced
- 3 cups sliced assorted summer squash
- 3 tablespoons tamari
- 1 1/2 cups chicken or
vegetable
broth
- 2 teaspoons rice vinegar
- 2 cups snow
peas
- 1/2 cup shredded
carrots
- 1 tablespoon minced cilantro
- 2 green onions, thinly sliced
Preparation
Step 1
Prepare soba noodles according to package directions. Drain, cover, and keep warm in a pot.
Step 2
Heat canola oil in a large nonstick skillet over medium-high heat. Toss in peppers, ginger, and garlic. Cook for 2 minutes.
Step 3
Stir in squash, tamari, broth, and rice vinegar. Sauté 3 minutes and toss in snow peas, carrots, cilantro, and onions. Cook another 2 to 3 minutes. Toss with sesame oil.
Step 4
Scoop the warm noodles equally onto plates in small round nests and top with stir-fried vegetables.
Step 5
This dish is good served warm or at room temperature.
Questions:
By
Barbarab103

---
---
Related video
Related recipes
Recipes
Related articles