French onion soup - video recipe!
French onion soup - video recipe!
A simple recipe, easy and tasty, perfect for supper!
Ingredients
---
---
- 1 Tbsp flour
---
- 1 stock cube
---
---
- 8 cups water
---
---
---
- pepper
---
- stale bread
---
- 7 ounces grated cheese
Preparation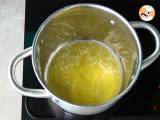 Step 1
Peel and chop the onions. Melt the butter in a big pot.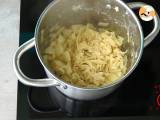 Step 2
Add the onions and sauté. Stir regularly to avoid the onions to burn. If they stick at the bottom, add a little bit of water. Sauté until they caramelize.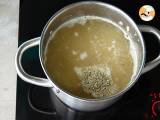 Step 3
Add the flour and stir. Add the water, the stock cube, the sugar, the thyme, the salt and the pepper.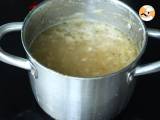 Step 4
Cover and leave for 45 minutes at medium heat.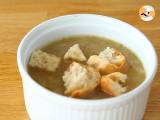 Step 5
Serve the soup in ovenproof bowls, and add some pieces of stale bread. Cover with grated cheese.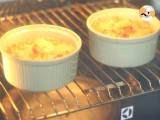 Step 6
Put in the oven, the gril function on, for 10 minutes, or until the cheese gets grilled.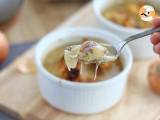 Step 7
There you are, your French onion soup is ready! Bon appétit!
---
---
Related recipes
Recipes
Related articles