Ginger-soy flatiron steak with grilled green onions (visit site!)
Ginger-soy flatiron steak with grilled green onions (visit site!)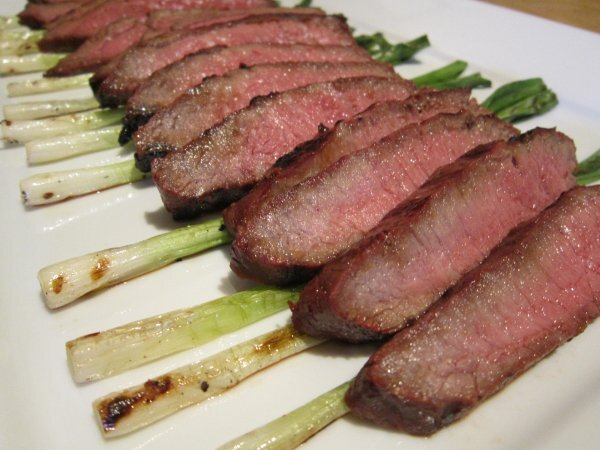 In this recipe, flatiron steak is marinated in soy sauce, ginger, and garlic, and cooks in less than 10 minutes! The grilled whole green onions make a nice aromatic accompaniment. Trust me, it is delicious! I like to serve it simply with a green salad or grilled corn on the cob. Other names for this cut of beef are top blade steak, top chuck steak, book steak, butlers' steak (UK), lifter steak, and oyster blade steak (Australia and New Zealand).
Ingredients
---
2 tablespoons vegetable oil
---
1 teaspoon Asian sesame oil
---
2 tablespoons brown
sugar
---
2
cloves
of garlic, finely chopped
---
1 teaspoon peeled and grated fresh
ginger
(I grate it on a microplane.)
---
---
12 green onions, roots removed, ends trimmed
---
1 teaspoon vegetable oil
Preparation
For the Marinade:
Combine the soy sauce, vegetable oil, sesame oil, brown sugar, garlic, and ginger in a shallow, nonreactive dish just large enough to hold the steak. Stir until the sugar dissolves. Place the steak in the dish, turning to coat both sides. Marinate the steak at room temperature, turning occasionally, for at least 30 minutes, or refrigerate and marinate until ready to use, removing from the refrigerator at least 30 minutes before grilling.
For the Steak:
Prepare a charcoal or gas grill for direct grilling (over the coals) over high heat (400-450 degrees). Oil the grill rack. Remove the meat from the marinade, discard the marinade.
Grill the steak over the hottest part of the grill, turning once, until nicely charred and cooked to your liking, 4-5 minutes per side. (Do Not Overcook!) Remove the steak to rest. Coat the onions lightly with the vegetable oil and grill, turning once or twice, until softened and lightly browned, 3-4 minutes.
To Serve:
Thinly slice the steak across the grain at an angle. Line a serving platter with the green onions, top with the sliced steak, spooning any accumulated juices over the meat.
Related recipes
Recipes