Mee goreng (mamak fried noodles)
Mee goreng (mamak fried noodles)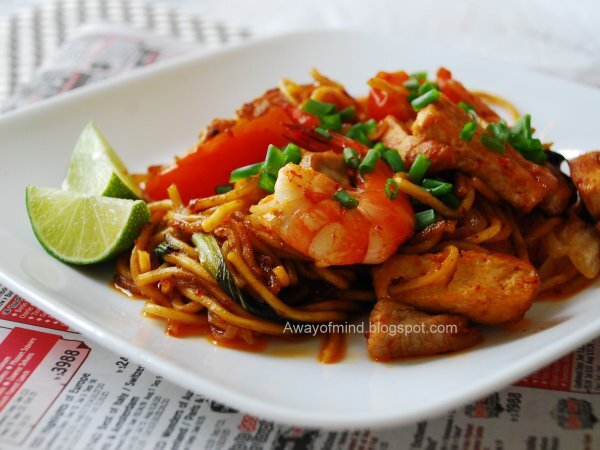 yellow egg noodles, chilli, garlic, shallot, prawns, vegetables, etc.
Ingredients
Recipe adapted from Malaysian Hawker Favourites Cookbook by Rohani Jelani
---
5 tbsps oil
---
---
---
---
100g
chicken
breast, cut into thin strips
---
100g medium fresh
prawns
, peeled and deveined
---
1 tomato, cut into wedges
---
300g sliced cabbage
---
150g mustard greens or bok choy, cut into short lengths
---
500g fresh yellow egg noodles, rinsed
---
2 eggs
---
2-3 tbsps crispy fried shallots
---
2 spring onions, thinly sliced
---
4 calamansi limes, cut into wedges
---
Sauce: (I double the quantity)
---
2 tbsps soy sauce
---
2 tbsps black soy sauce
---
4-5 tbsps tomato ketchup
---
1 tsp salt
---
4 tsps sugar
---
6 dried chillies (is ok to use fresh one)
---
5 shallots, peeled
---
5 cloves garlic, peeled
---
1 tsp belachan (dried shrimp paste)
Preparation
Method:
1. To make sauce: combine all ingredients for sauce in a bowl and set aside.
2. To make the chilli paste: cut chillies into lengths, deseed and drain. Grind the chillies, shallots, garlic and belachan to a smooth paste ina blender, add a little water if necessary to keep the blades turning. Heat 2 tbsps of oil in a wok over medium heat and stir fry the paste untilmixture for 5 mins, Transfer the chillies mixture to a plate, set aside.
3. Halve the tofu and pat dry with kitchen paper. Heat the oil in wok and stir fry the onion and garlic until fragrant, about 2 mins. Add in chicken and stir fry for 3 mins, then add the prawns, tomato, cabbage and mustard greens. Increase the heat to high and stir fry for 2 mins. Add in the chilli paste and tofu and cook for 2 ins. Add the sauce and noodles and stir fry over high heat for 4-5 mins.
4. Make a well in the centre of the wok and add 2 tsps of oil. Add the eggs, scramble and allow to brown slightly. Mix all the ingredients together and serve, garnished with crispy fried shallots abd spring onions, and serve the lime on the side.
Questions:
Related recipes
Recipes