Penang chee cheong fun (steamed rice rolls with shrimp paste)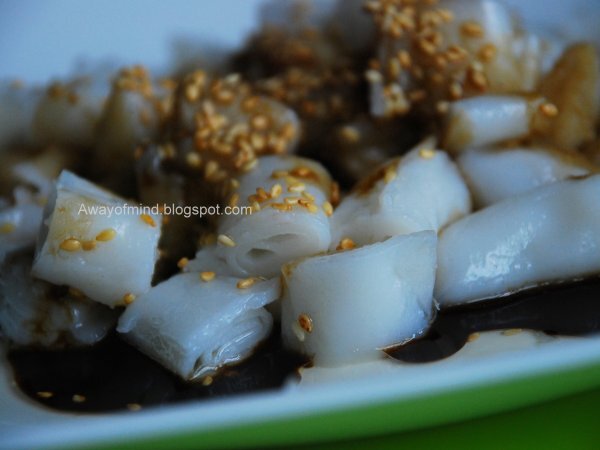 Preparation
Step:
1. Add the rice flour, wheat stach, corn starch and salt into a bowl, gradually pour in water, mix well until no lump. Add oil and stir well. Set aside for 30 mins. (As in the figure 2, the oil spots spread out after the batter is rest for 30 mins)
2. Place oiled tray into the steamer, when the water is boiled, stir well the batter, ladle and spread a thin layer of batter onto the hot tray. Shake a little to let the batter flow evenly to every corner. Cover and steam for 3 4 mins on high heat.
3. Remove the tray from steamer and use an oiled scapper to roll it up into a cylinder. It will be easy to roll up if the rice roll is thoroughly cooked.
4. Continue to steam another rice roll by oiled the steaming tray and repeat step 2 to 3 until the batter is used up.
5. To serve, you may cut the rice rolls into small cylinders some may like to open up the rice rolls, add oil, shrimp paste, sesame seeds, fried shallot and chillies sauce.
Questions:
Related recipes
Recipes