Sambal petai ikan bilis (stink beans and anchovies in chili gravy)
Sambal petai ikan bilis (stink beans and anchovies in chili gravy)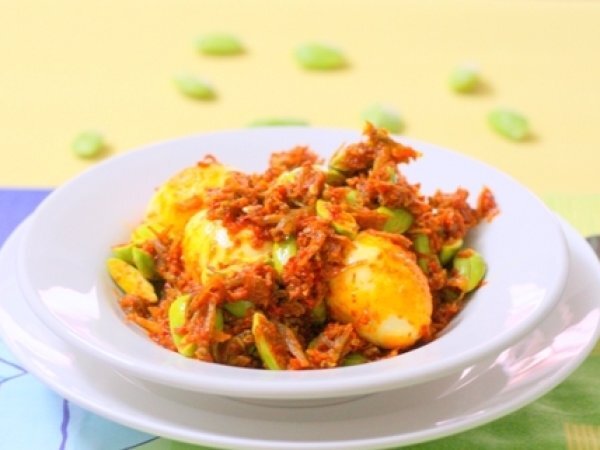 Tantalizing sumptuous chili flavored petai dish
Ingredients
400g petai/stink
beans
- slide into two or three pieces
---
1 cup dried anchovies/ikan bilis - soaked and drained
---
4 hard boiled
eggs
- peel off the shell
---
---
---
---
Oil as needed
---
For the chili paste - blend/ground
---
10 dried red chilies
---
5 garlic
---
5 shallots
---
1/2 inch roasted belacan
Preparation
Heat enough oil and deep fry the eggs for a thin layer of crispy coating.
(Note: Over frying will produce a rubbery texture)

In the same oil, deep fry anchovies till light brown and crispy.
Remove and keep aside.

Leave about 3 tbsp of the oil in the wok while removing the excess.
Add chili paste and fry till oil splits.

Put in petai and cook for a texture you prefer.
Combine in all the other ingredients, including the fried anchovies and eggs.
Stir well and remove from heat.
Related recipes
Recipes