Seared salmon with shiitake and snow pea lo mein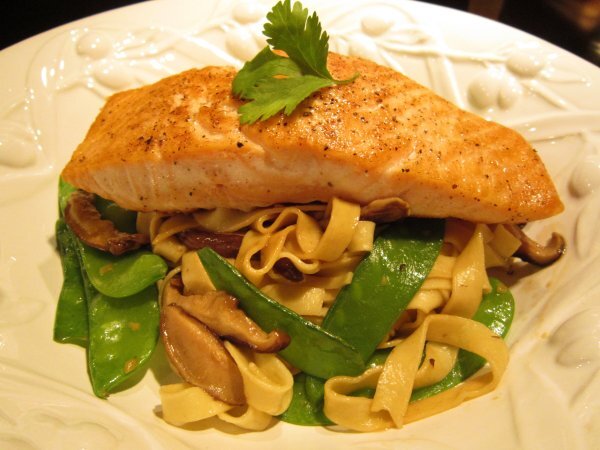 Preparation
For the sauce
Mix all the ingredients and reserve until ready to use.
For the lo mein
Bring a large pot of salted water to a boil. Cook the noodles according to package directions.
Meanwhile, in a large heavy skillet, heat the 2 tablespoons canola oil over medium-high heat. When shimmery, add the mushrooms and saute for 3 minutes, stirring frequently. Add the snow peas and scallions and continue to saute for another 2 minutes, stirring frequently. Add the sauce and noodles. Toss well to coat.
For the salmon
In yet another large heavy skillet, heat the canola oil over high heat. Season the salmon fillets with salt and pepper. Sear the salmon on one side until a golden crust forms, 4-5 minutes. Turn the fish and continue to cook until medium-rare, about 2 minutes, depending on the thickness of the fish.
To serve
Divide the lo mein evenly between 4 large, shallow bowls. Top each with a salmon fillet and serve. (I topped mine with a single cilantro leaf that I had on hand for the dumplings.) Abundance and longevity never tasted so good!
Questions:
You may like
Recipes
Related articles