Sinanglay or ginataang isda (fish cooked in coconut milk)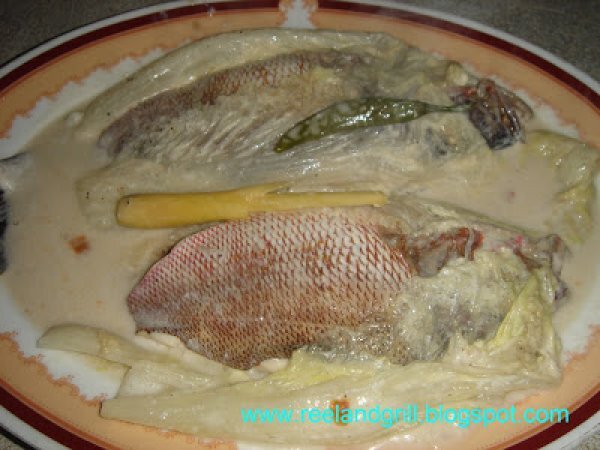 Preparation
In a large mixing bowl, combine minced tomatoes, garlic, ginger, chili and onion. Add half of the salt and pepper and mix to properly blend the flavors.
Make an incision along the back of the fish. Season the fish with the remaining salt and pepper. Stuff the fish cavity with the tomato-onion mixture. Fold the fish back to contain the stuffing.
Secure the incision/opening by wrapping Chinese cabbage around each fish. Arrange the fish along with the lemon grass and whole chilies in a skillet and pour in coconut milk.
Bring the coconut milk to a boil, then lower the heat and continue simmering for about 30 minutes or until the fish is cooked through and flavors from the stuff ingredients, especially tomatoes, are evident in the sauce.
Simmering with the lid on caused the coconut milk to somehow curdle resulting to a rather thin sauce. Transfer in a wide platter and serve with steamed rice.
The succulent meat of the fish as well as the still crunchy cabbage goes very well with the rich sauce. A cup of rice will definitely not suffice.
Questions:
You may like
Recipes
Related articles