Spinach and goat cheese lasagna - video recipe !
Spinach and goat cheese lasagna - video recipe !
Who doesn't love lasagna ? This italian dish known all around the world is made to make everyone agree during family diners ! What about shake things up a bit, and change the basic marinara filling with some spinach, some goat cheese and béchamel sauce ? Maybe a new way to make your kids eat some spinach. A tested and really approved Petit Chef's recipe !
Preparation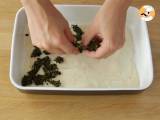 Step 1
Prepare the béchamel. Grease a dish with some butter, then pour some béchamel, and dispose around one quarter of the spinach.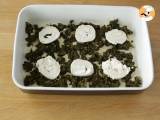 Step 2
Add around 2 ounces of goat cheese (you can replace it with ricotta cheese.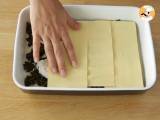 Step 3
Cover this with 4 lasagna noodles, then keep doing layers, alternating with béchamel, spinach, goat cheese and lasagna noodles.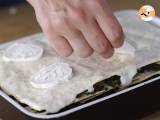 Step 4
On the fourth layer of lasagna, spread only béchamel, then add the remaining goat cheese.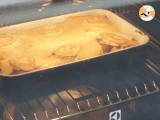 Step 5
Bake for 20 minutes at 430°F (220°C), then leave to settle for 10 minutes.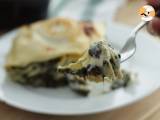 Step 6
There you are, your spinach and goat cheese lasagna are ready !
---
---
Related recipes
Recipes
Related articles