Bamboo Charcoal Swiss Roll .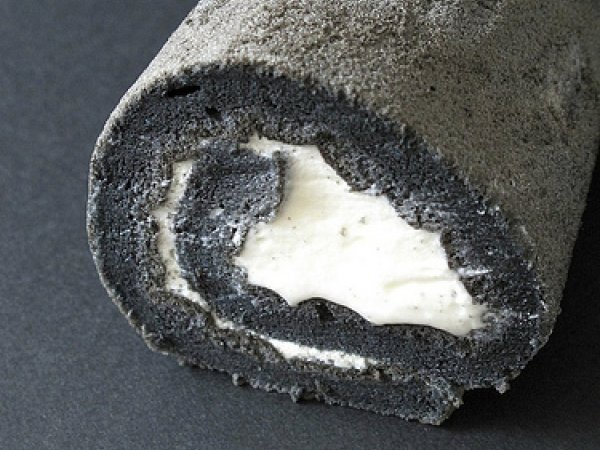 Preparation
Line a 27cm x 27cm square pan with parchment paper. Preheat oven to 200C.
Chiffon Sponge : Whip Egg Yolk with 20g Sugar until a figure 8 can be 'ribboned' out without fading quickly into the mixture. Add Vanilla extract and mix well.
In a separate clean bowl, whip egg white with 70g sugar until soft firm peaks are obtained. The meringue should still droop when the whip is inverted.
Chiffon Sponge : Pour Egg Yolk mixture into egg white and fold carefully to blend. Sift flour and Bamboo charcoal into the combined egg mixture. Fold carefully to ensure that flour is well combined. Pour in melted butter and fold to combine.
Pour batter into the lined square pan. Spread batter evenly. Bake cake in oven at 200C for 10 -12 minutes.
After baking, remove cake from baking pan and leave to cool completely in parchment paper. Peel off parchment paper. The top face will be creamed.
Cream Chantilly:
Spread whipped cream on to top face of sponge. Roll carefully to form swiss roll.
Questions:
You may like
Recipes