Blue hawaii pineapple upside-down cupcakes
Preparation
For Cupcake Batter:
Preheat oven to 350 degrees. Grease 10 ramekins or one cupcake pan. (Pineapple rings can fit into most ramekins, large cupcake cups, or mini cake molds; or cut pineapple into wedges to fit your pan.).
In a mixing bowl, cream butter and sugar until light and fluffy. Mix in eggs. Stir in vanilla, rum, pineapple juice, and sweet-and-sour mix. Add flour, baking powder, and salt. Transfer one-third of the batter into a separate bowl and stir in blue Curacao and food coloring.
For the topping: In a saucepan over medium heat, stir butter and brown sugar 3 minutes, or until melted. Remove from heat and stir in rum. Drop a spoonful of sauce and a pineapple ring into each ramekin or cupcake cup. Spoon yellow batter into pans. Refrigerate 30 minutes (chilling keeps the colored layers separate). Add blue batter, filling each cup almost to the top. Bake for 25 to 30 minutes.
For the Sweet-and-Sour Mix: Boil 1 cup water; stir in sugar until dissolved. Remove from heat and add lemon and lime juices. Using a funnel, pour into an airtight bottle and refrigerate. Store chilled up to 1 month. Makes about 3 cups.
For the Spiked Whipped Cream: In a mixing bowl, beat cream and sugar until stiff peaks form. Gently fold in liqueur with a rubber spatula. Tint with a few drops of food coloring. Makes about 3 cups.
Finish: Loosen cooled cakes with knife. Press a tray to the cupcake pan or ramekins; flip over to unmold. Top each with spiked whipped cream, coconut, and a maraschino cherry.
Questions:
Related recipes
Recipes
Related articles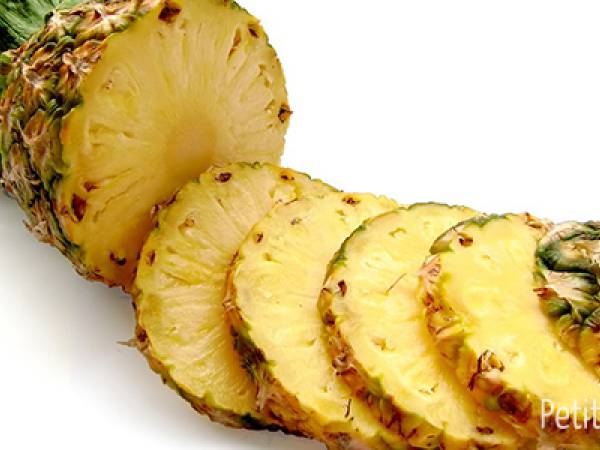 How to pick a pineapple?