Chocolate chip and candied bacon pancakes with nutella maple syrup
Preparation
Heat the oven to 375 F and line a baking sheet with aluminum foil. Spray a wire cooling rack with non-stick cooking spray and place it on the prepared baking sheet.
Lay the strips of bacon on the wire rack with about 1/2- inch of space between them. In a small bowl combine the brown sugar, cinnamon, paprika, and cocoa powder until well combined.
Sprinkle the mixture evenly over the bacon. Bake for 15 to 20 minutes, or until the bacon is crisp and the topping is bubbling. Cool completely on the rack. Once cool roughly chop. Set aside.
In a small saucepan combine the Nutella, maple syrup, butter, and vanilla. Place the pot over low heat, stirring constantly, until the butter is melted and the mixture is smooth. Set aside.
Heat a flat griddle, or other large smooth bottom skillet, to medium-low heat. In a medium bowl cream together the cream cheese, butter, and vanilla until smooth.
Add the eggs, one at a time, and whisk until evenly incorporated. Add the buttermilk and whisk until well combined.
In a large bowl combine the flour, sugar, baking powder, and salt. Whisk to mix. Stir in the chopped bacon and the chocolate chips.
Make a well in the center and pour in the wet ingredients. Stir until just combined and no large lumps of dry flour remain.
Spray the griddle with non-stick cooking spray and scoop the batter, by the 1/3 cup, on to the heated griddle.
Cook for 2 to 3 minutes on the first side, or until the batter begins to puff, the edges are no longer shiny, and the cooked side is golden brown.
Flip and cook for 1 to 2 minutes on the second side, or until the pancakes spring back when gently pressed in the center and are golden brown.
To hold pancakes while cooking store in a warm oven on a wire rack. They will hold for up to 45 minutes. Serve warm with a drizzle of the syrup.
Photos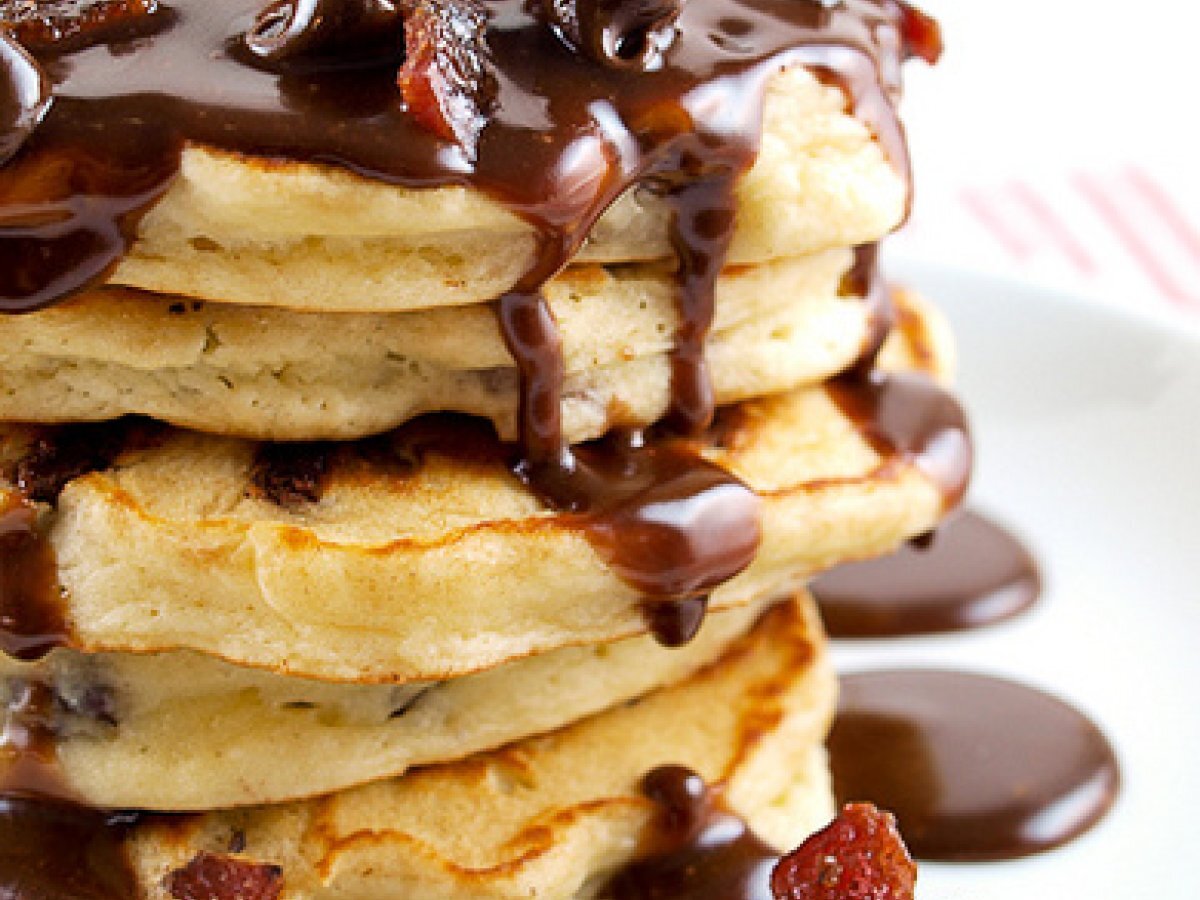 Questions:
You may like
Recipes
Related articles