Orange cinnamon madeleines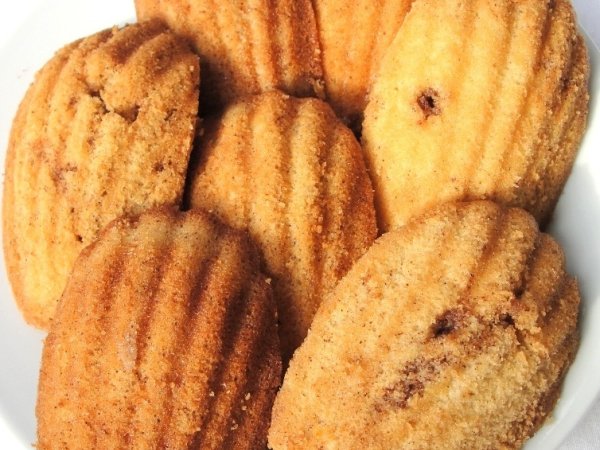 Preparation
1. First, melt the butter and allow it to cool while you make the batter.
2. In a small bowl place the flour, baking powder and salt and whisk until well blended. Combine cinnamon and brown sugar in a separate bowl and keep aside.
3. In the bowl of your electric mixture beat the eggs whites and white sugar at medium-high speed until the mixture has tripled in volume. It will be very light. Add the orange extract and orange zest and beat to combine.
4. Sift the flour mixture over the egg mixture and fold in using a spatula and make sure not to over mix or the batter will deflate.
5. Then fold in the cooled melted butter in three additions.
6. Now add the cinnamon-brown sugar mixture and fold in lightly with a fork (the way we make swirls). Cover and refrigerate for at least 30 minutes until slightly firm.
7. Position a rack in the center of the oven and preheat to 375 degrees F (190 degrees C).
8. Grease the Madeleine pan. (Make sure the pan is well greased or the Madeleine's will stick and be hard to remove.)
9. Drop a generous tablespoonful of the batter into the center of each prepared mold, leaving the batter mounded in the center.
10. Bake the madeleines for 10-12 minutes, until the edges are golden brown and the centers spring back when lightly touched. Do not over bake these cookies or they will be dry.
Questions:
You may like
Recipes