Pancakes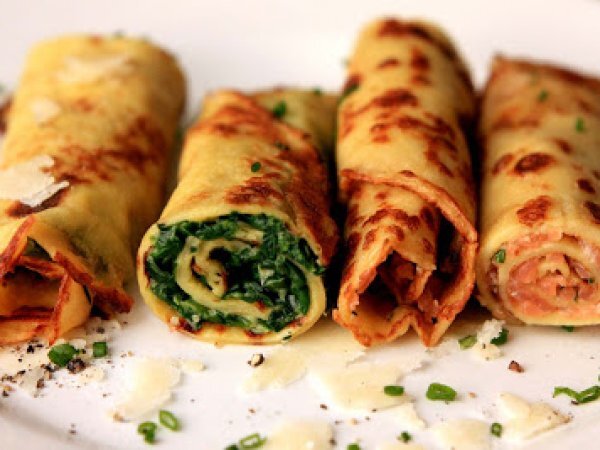 Recipe type:

Other

Number of serving:

5 servings

Preparation:

25 min

Cook time:

4 min

Ready in:

29 min

Difficulty:

Very Easy
Ingredients
Smoked salmon filling:
- smoked
salmon
- chives
-
parsley
- crème fraîche
-
black pepper
-
lemon
juice
Baby spinach, Parmesan and garlic filling:
- 2-3
cloves
of garlic
- butter
- baby spinach
- Parmesan cheese
Pancake batter:
- 3 large eggs
- 250 g of plain white flou
- milk
- a pinch of salt
Preparation
Step 1
Smoked salmon filling:
Cut the smoked salmon into small dice, finely chop some chives and parsley and mix in a bowl with a dollop of crème fraîche. Add a pinch of freshly cracked black pepper and a little squeeze of lemon juice. Mix, taste and season.
Step 2
Baby spinach, Parmesan and garlic filling:
Gently fry 2-3 cloves of garlic in butter in a large frying pan until soft. Take a large double handful of baby spinach and roughly chop. Add to the pan with the garlic, season with salt and pepper and stir until the spinach has wilted.
Step 3
Set aside and allow to cool completely. Mix with a good dollop of crème fraîche and a generous amount of grated Parmesan cheese.
Step 4
Pancake batter:
Crack 3 large eggs into a bowl, add 250g of plain white flour, a splash of milk and a pinch of salt. Mix until a uniform consistency is achieved. Now add 500 ml of milk in stages, mixing to get a smooth texture in between each stage. Let the batter stand for 2 hours before cooking; this allows any air in the mixture to dissipate, ensuring that the pancakes do not rise when cooking and stay nice and flat. Thin the batter just before cooking with 50-100 ml of milk.
Step 5
To cook the pancakes, get your frying pan nice and hot before adding a knob of butter. Once the butter has melted, pour in a small amount of batter whilst carefully tilting the pan to ensure that a nice thin even spread is achieved. Fry for a few minutes on each side, until nice and golden.
Questions:
---
---
Related video
Related recipes
Recipes