Spiced pumpkin madeleines
By
ChefdennisW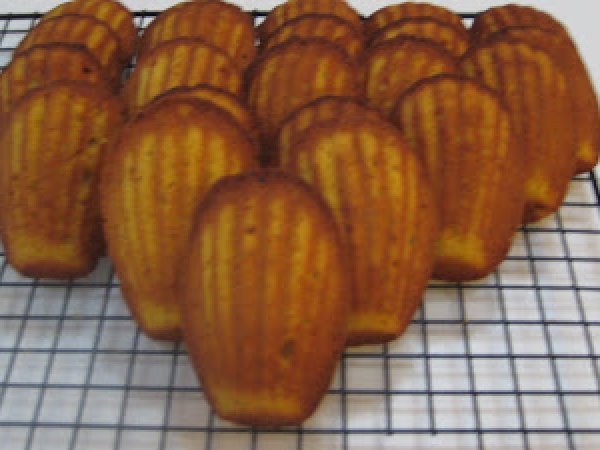 Recipe type:

Other

Number of serving:

6 servings

Preparation:

15 min

Cook time:

15 min

Ready in:

30 min

Difficulty:

Very Easy
Ingredients
Preparation
Step 1
In a small saucepan over medium-low heat begin to melt the butter. Once the butter melts, allow it to gently cook until it begins to turn a light brown color. Immediately turn off heat and allow butter to sit. It will continue to brown as it rests. If your butter gets too dark, start over.
Step 2
Place the egg yolks in the bowl of a mixer along with half of the sugar. Beat on high speed until sugar melts and yolks become a pale yellow. Add pumpkin puree and vanilla and beat on low until just mixed together.
Step 3
Place egg whites in a separate mixer bowl and beat on high speed until they reach soft peaks. Add remaining sugar and continue beating until egg whites are stiff and glossy. In a separate bowl, whisk together the flours, salt, and spices.
Step 4
Whisk 1/3 of the egg whites into the pumpkin mixture to lighten the batter. Then in 2 batches, gently fold in remaining egg whites using a large rubber spatula. Sprinkle flour mixture gently over the top of the batter and fold until combined.
Step 5
Be sure that there are no pockets of flour at the bottom of the bowl. Finally, add 6 tablespoons of the reserved brown butter, reserving 2 tablespoons to grease the madeleine pan. Cover batter and allow to rest in the refrigerator for at least 4 hours.
Step 6
Preheat oven to 375 degrees and place oven rack in middle position. Lightly butter a madeleine pan with the reserved brown butter. Be sure that no butter pools in the bottom of the shells as this will distort the final appearance. Place 1 1/2 - 2 tablespoons of batter in each shell mold.
Step 7
Place in hot oven and bake for 14 to 15 minutes. Remove from oven and invert madeleines onto a cooling rack. If they stick, just bang a corner of the pan on the rack and they will come right out. Allow to cool to warm and serve immediately.
Questions:
By
ChefdennisW

---
---
Related video
Related recipes
Recipes