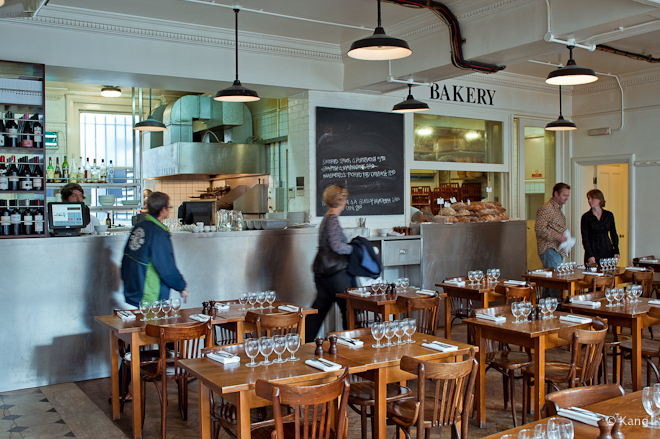 How can you not enjoy reading about Fergus Henderson. His books, Nose to Tail Eating, and the companion follow-up Beyond NTT, I gather, have become necessary volumes in the canon of British cooking. I haven?t read the 2nd one, and I would love for him to autograph a copy for me. Yes, it's geeky, but in the world of a lowly restaurant blogger, chefs are the rockstars. Fergus brings out the best in hacks, they pen his story with fire and gusto, respecting his electric presence, his boldness toward his craft, his battle with Parkinson's and extol his significance to the jingoism that exists amongst those who observe the landscape of food in this country (or should I say, in this city) , professionally and by those who are simply enthusiasts. I particular enjoy this piece, this one, this (defunct) blog dedicated to him called 'Being Fergus Henderson' and the numerous love letters Master Rayner has written to St John over the years.
Ubiquity has transformed the capital?s dining scene of course, since St John?s opening in ?94 and then most recently, a well-deserved tribute of his contributions to the ascendancy of British food (in this country) with the awarding of a star by the Bib in 2009. At times, I view it as a kind of movement you know, other times I think Fergus is British cuisine, in its contemporary sense anyway. The reticent approach to food seems as legitimate a genre to take up as any of the many schools of molecular gastronomy. Game and offal and proud British chefs champion Henderson?s practice of restraint description and unbridled extremity. The Nose to Tail concept of boldly cooking what others wouldnt dare, is very nearly common place now, in any restaurant that dares to call itself British.
Yet nothing from the new stables quite excites nor courageous enough to go to the extremes with the same audacity as the original shrine has done. At least that is my humble opinion. Not to say that the derivatives do not produce delicious food, they do, but where else would you see roast squirrels on a restaurant menu? Don?t answer that, its rhetorical. Though to be honest, I?ve always thought that St John?s main courses were always too racy for return visits, particularly with its elevated status as an institution at the moment – there's only so much boldness one can take on, during one sitting.
Enter St John Bread & Wine. Even more pare-down than the original, approaching a caffe, with even less contrast and clutter and equipped with a bakery that makes fresh bread for both St Johns. The reigned-in aesthetics are well in line with Fergus? approach to cooking, with even whiter walls, is imbued with a harmonious beauty about it. Like the food, the natural details are allowed to permeate through your senses. Like the electric cables that run the length of the ceiling for instance, neatly bunched together; The omnipresent exhaust fan in the unwalled kitchen, the short wine glasses and varnished wooden furnishings, with echoes of clicking heels, the melodious chatter of satisfied diners, the klang and klang of clashing cutlery and down to the racks of well arranged wine bottles. My eyes zig and zag around the room, patiently studying the details, which I'm convinced is not by accident. Fergus was trained to be an architect after all, and I'm sure the simplicity was completely by design.
B&W opens for breakfast at 9am, moves to an Elevenses offering and from midday, dinner are a selection of manageable half portions, with fuller portions rolled out at 1pm. The menu is updated daily on their website.
The better half and I slinked in for a Friday pig-out at 1.30pm. We ordered two glasses from the Frenchly wine list – a glass of house red (a Cabernet-Syrah blend) for a fiver, and a Pinot from the 'Free Country' of Burgundy for £6.90.
Mussels and sea purslane, £8.90.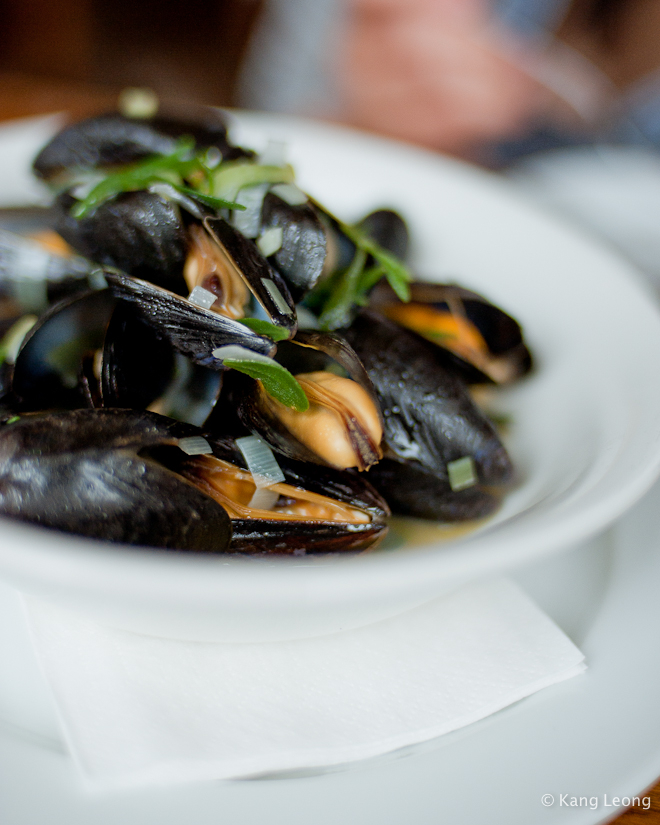 A broth tinged with sensitive tenderness; Flavours of leeks, spring onion and a depth of sweetness that lingered on and on. I was well aware that this was the most basic of dishes from the deep, but with mussels this fresh, less is the exact treatment it requires.
Cauliflower soup with Snails, £5.70.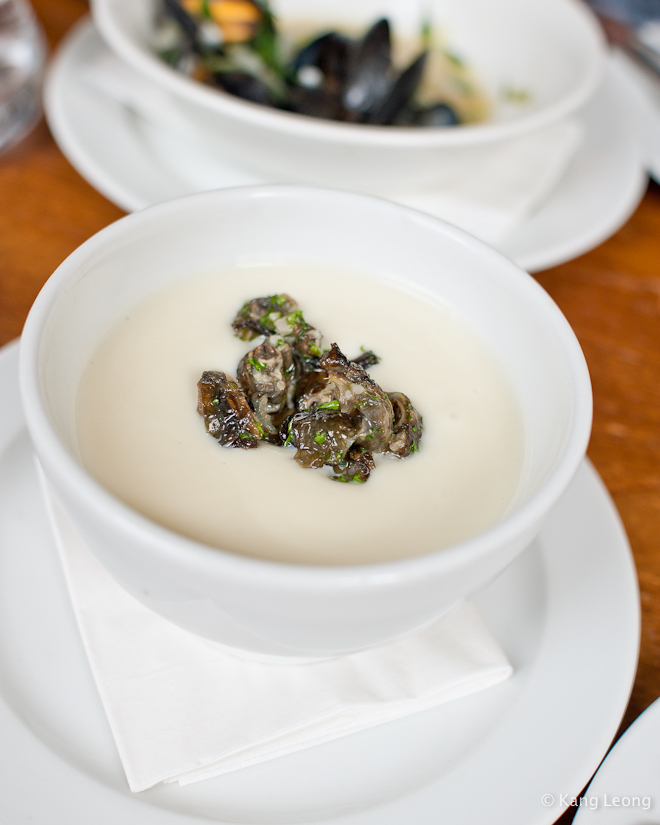 Yes, oh father in heaven, kiss the ground, what a fantastic dish. The soup was gooey, whipped, as pearlescent as the paintjob and with the essence of a thousand cauliflowers sacrificed for this very bowl. Textured like baby food or more exactly, nestum, however it were the rubbery, lemony and well seasoned snails that had me swooning and cooing and feeling in love. Cauliflower and snails, not an obvious marriage, but that?s why SJBW is genius.
Blood cake and Duck Egg, £6.90.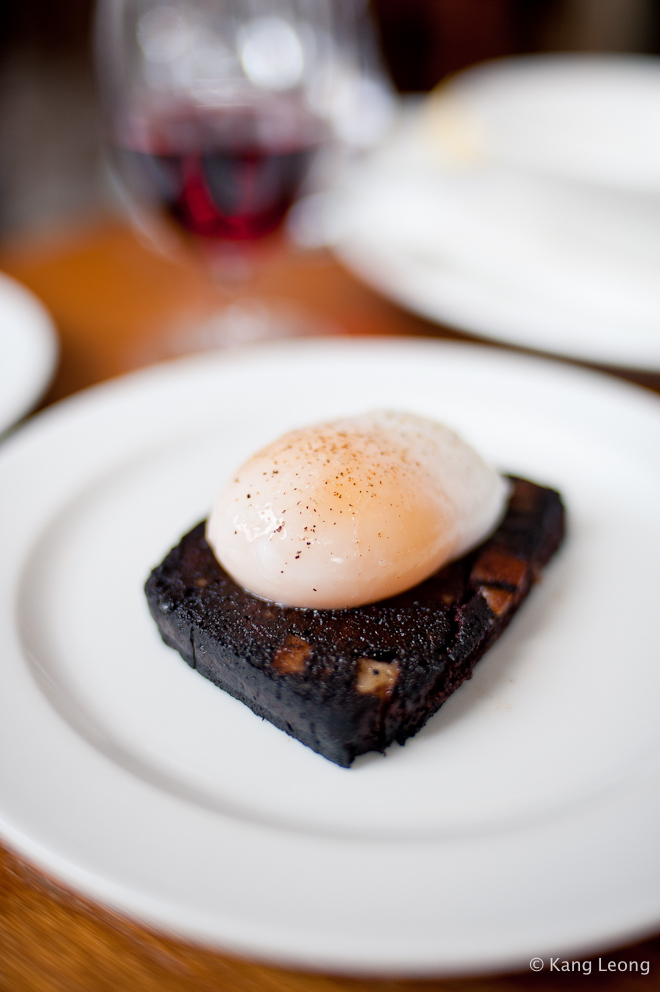 This would be one of Henderson?s long time signature dishes, and my god is it brilliant.
But first, we must breach the yolk.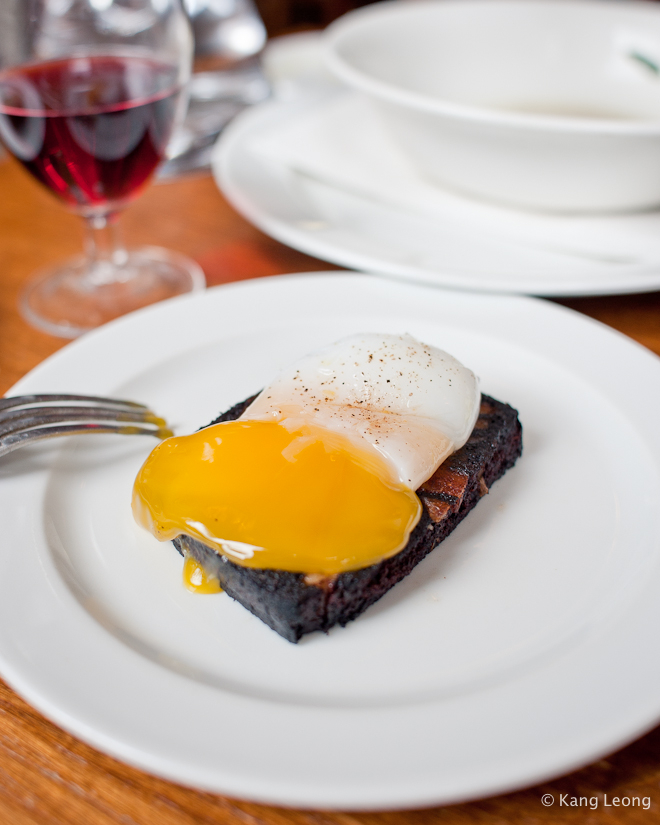 That yolk makes all the difference ? it enlivened the pudding, distracting from the bloodiness as it were. As for the cake itself, simply glorious, I was most impressed that there was no sticky pastiness to it, it was smooth all the way through, pudgy and almost like a moist brownie. Indeed it was a savoury cake. The flossy bits of pork and pork fat were nothing short of ethereal. It tasted more like pan-fried hash than pan-fried blood, very well seasoned, and just very good. I could easily have had two of these and I'm no fan of black pudding, then again, no blood cake tastes quite like this one.
Purple Sprouting Broccoli Vinaigrette, £5.70.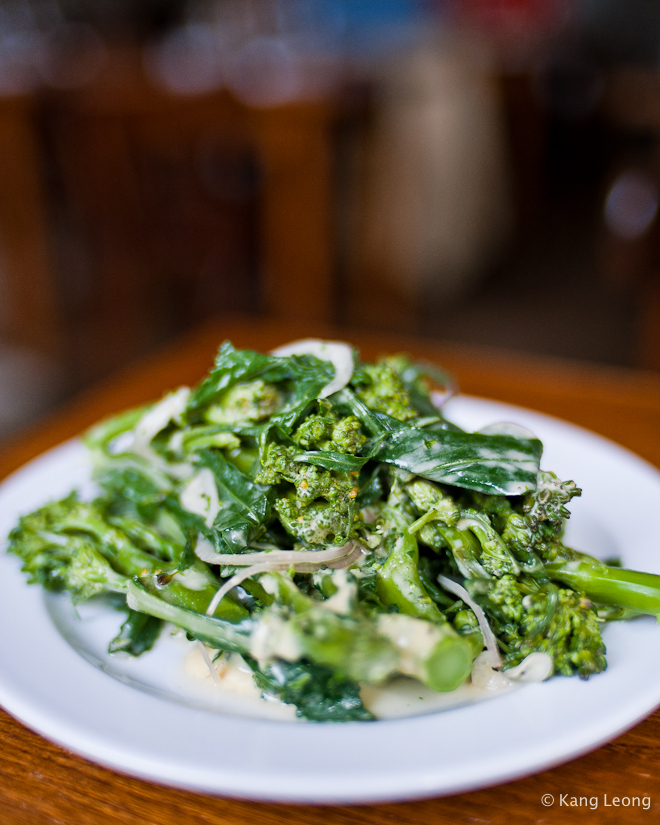 Even the fibrous and green were good. Wet and watery, soft and juicy with a touch of mustard ? simple and brilliant.
Middlewhite faggot with swede mash, £6.70.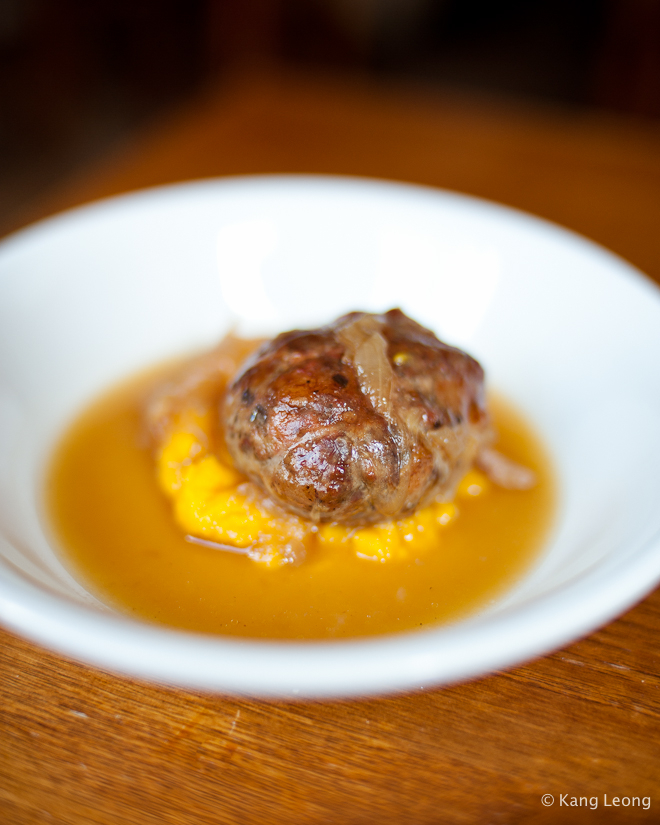 I was surprised with this one, because I didn?t like it. It was the most offal of the dishes we ordered, but perhaps that?s why I didn?t like it. The stench of cooked fat from pigs floated across my nose. It reminded me of dumplings stuffed with a little too much fat, other unknowns and not enough shrimp, in Dim Sum restaurants.
Cepes & Sorrel on Toast… erm, free.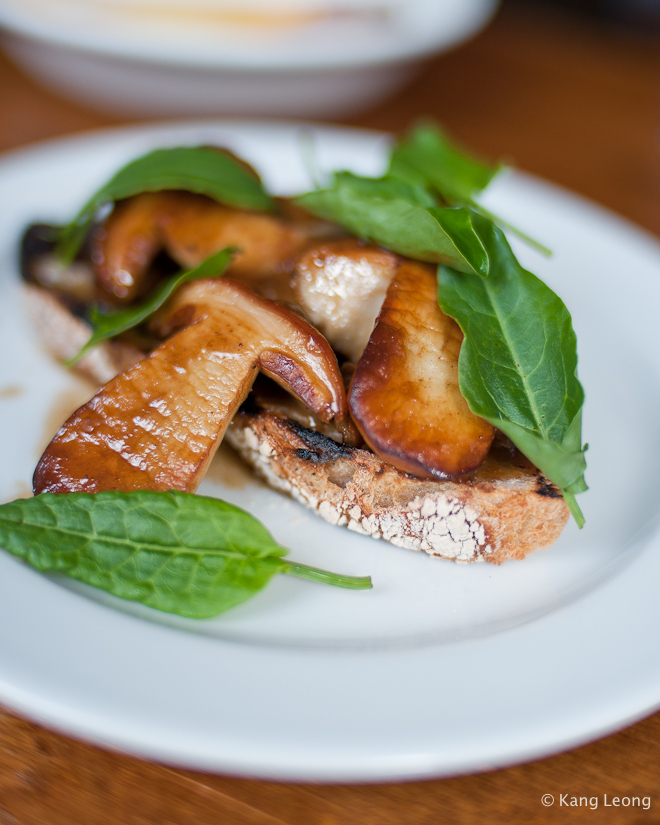 Perhaps it was my incessant twittering during the course of the meal (as I tend to do these days) , as our meal drew into its final act, our gracious hostess brought over a dish we didn't order. "Because we know who you are" she said, proceeding to explain the provenance of the 'shrooms and sorrel. Well of course I enjoyed it. We joked afterward that perhaps I should I have responded with "Ken Hom?".
Smoked Herring £6.10.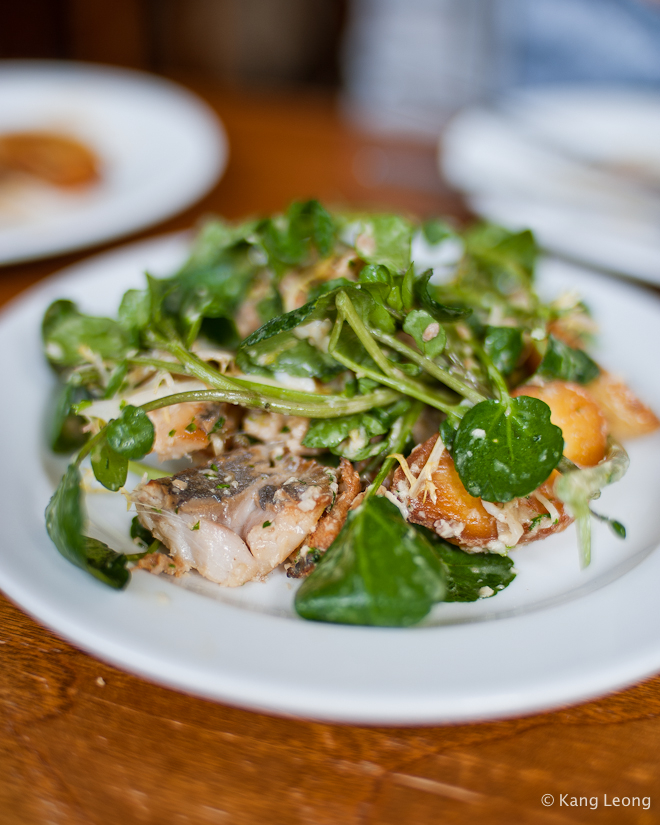 Deeply salted herring, gently smoky, which was nice, by now we were both full to the very brim. My note taking had waned, and we were feeling utterly satisfied.
Greengage and cobnut crumble with vanilla custard, £5.90.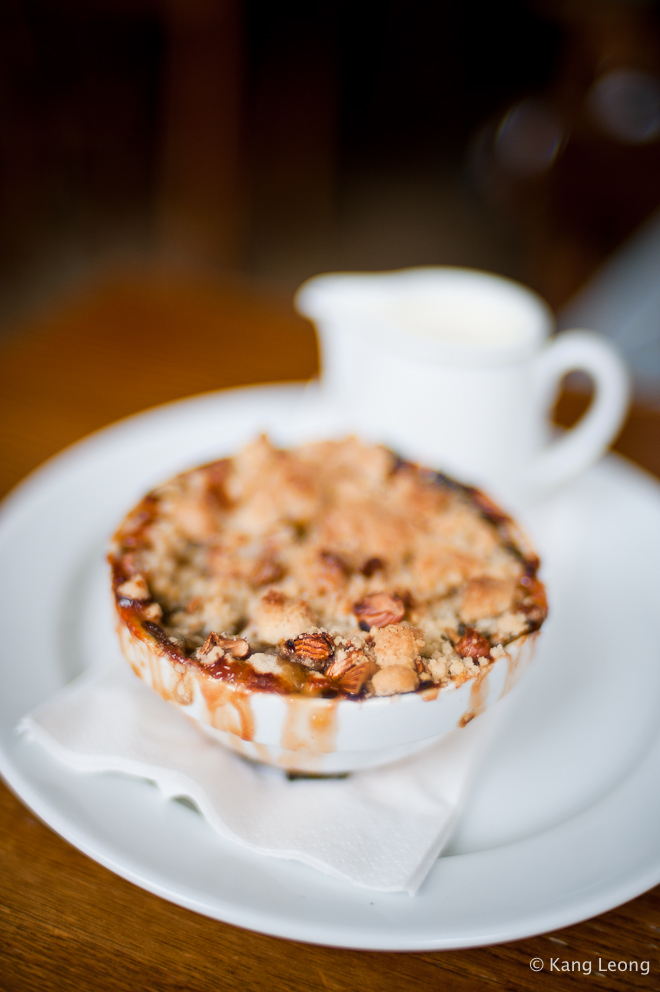 But there is always room for pudding. I recalled how my meal at St John last year ended on a very high note, and I was pleased with this zingy crumble that made use of a lesser known (at least to me) plum. The real star of the pudding was the custard however, completely out of this world. The better half is rather critical of milky concoctions, basically she hates milky things. After accidentally spilling some of the amazing custard on her spoonful of crumble, she lit up and quite literally drank the last drops of it straight from the jug it was served in.
Half a dozen of the Madeleines, £3.70.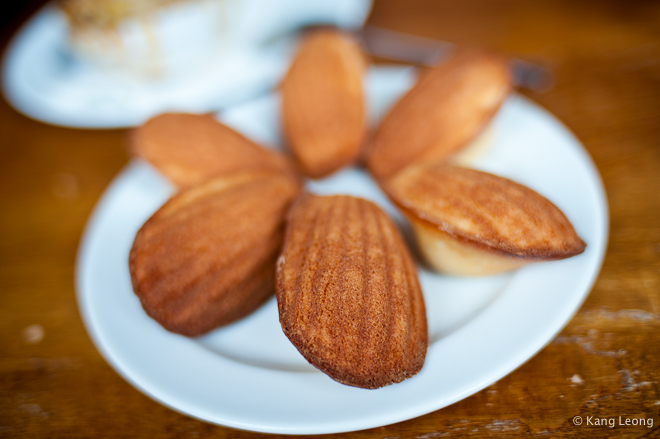 Over a double espresso, we sat back to enjoy the rest of the afternoon, the sunshine and admire how well designed this ultimately egalitarian, utilitarian and efficient this caffe was at ensuring its customers are well-fed, satisfied and contemplating returning for more. And I think that's the point, one could easy return, because the food is so democratic, any time of the day or night or afternoon because everything is so very easy to eat.
I mean, just look at this.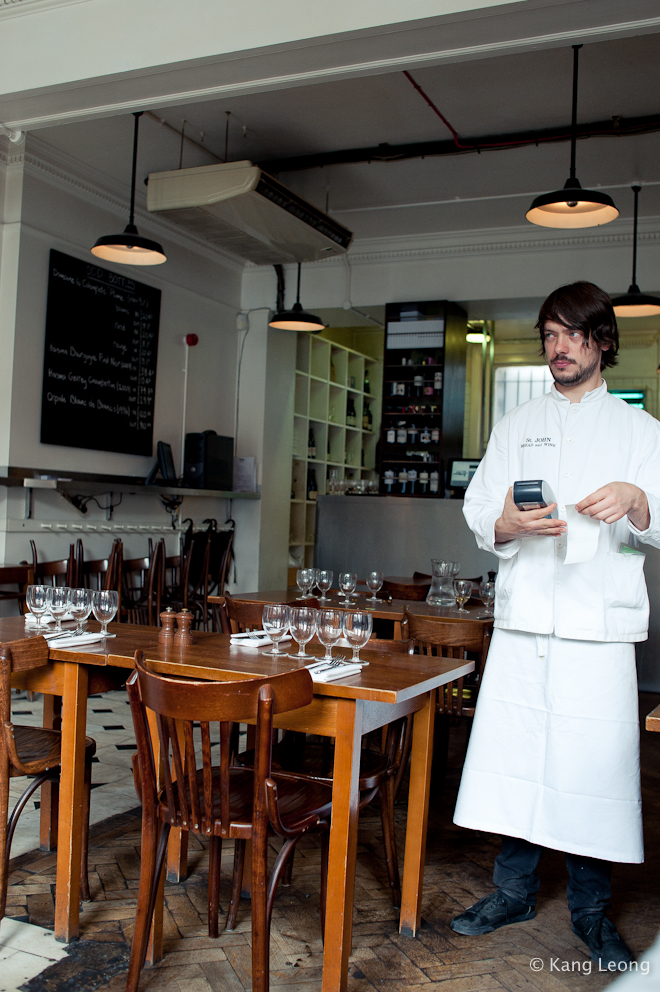 That uniform – same at SJ as well – the lamps, the weird greenish lights in the kitchen behind him, the chalk boards, the low hanging coat hangers – this is how you blend complexity into the background and move gullible bloggers like me into writing overly long essays such as this. The final bill came to £61.70 sans service. What fantastic value, for all the food we had, and we did overeat. I empty all the shillings in my pocket.
What did you expect? With a restaurant owner whose reputation carries as much gravity as it does, you knew I was always going to breach the unholy word limit. And so I rightly should, because I think St John and Bread and Wine and the eventual Hotel (to open in Soho later this year) are at the heart of what?s great about the London dining scene, today.
In some way, I think B&W might be even better than the original, the menu is less challenging than at St John, the atmosphere is a breeze and one can sit there all afternoon without needing to worry about table turning, or watch neighbouring food adventurers extolling their skill of having eaten the gastronomic world.
The emphasis on provenance and use of ingredients dazzle in a much understated fashion, very British and antithesis to the rest of Europe. It doesn?t try to be anything other than what it is cooking. The restaurants, very simply, deliver the goods. Humorous, a little eccentric, exacting, militant, the true paragon of Great British Cooking.
And if you can pick through the rubble of my bull shit, you?ll see that I am basically saying that I love it.
My visit to St John in June 2009 here.
The Gist of It
St John Bread & Wine
Fergus Henderson Cuisine, £20pp
94-96 Commercial Street E1 6LZ
Tel: 020 7251 0848
Tube: Liverpool St Station
Front to Back: Jay ; Time Out London ; Grumbling Gourmet ; London Stuff ; An American in London ; Douglas ; Adrian Anthony
Did you enjoy reading this? You can subscribe to the Newsletter. Alternatively, you can subscribe to the RSS feed.