Chinese chicken salad with ginger vinaigrette
Chinese chicken salad with ginger vinaigrette
Not too filling and not too light. It is just right.
Ingredients
---
---
pepper
---
---
---
additional spices
---
1/2 head iceberg or romaine
lettuce
---
1 carrot
---
1/2 chopped fresh parsley
---
1 medium cucumber
---
1/2 tsp grated fresh ginger
---
1 tsp sugar
---
1 Tbsp rice wine vinegar
---
2 Tbsp Vegetable oil
---
1 Tbsp Olive Oil
---
1 tsp sesame seeds
---
salt to season
---
8 wonton sheets
---
canola or peanut oil, if pan-frying
---
Olive oil, if baking
---
salt
Preparation
Preheat your oven to 400 degrees F. Lightly rub the chicken with a little olive oil and season the with salt, pepper and paprika. you may use your own rub or seasonings.
Place on an ungreased baking sheet and bake for roughly 25 minutes until chicken is cooked through.
When cooked remove from the oven and cover with foil. Let it sit for 5 minutes to let the juices redistribute. Cut or shred into pieces before mixing salad together.
At the same time while the chicken in baking, you can make the wonton strips. Cut them into 1/2-inch strips.
If pan-frying, coat the bottom of skillet with a good drizzle of oil (1/4-inch deep) on a med to high heat. When the oil is really hot drop in strip for 5-10 sec, flip if needed then place on a paper towel to drain off excess oil. Season with a little salt.
If baking, lightly grease a baking sheet, layout the strip and brush or drizzle some olive oil and sprinkle a little salt over the strips. Bake for 3-5 minutes on a 400 degrees F oven. Or 2-3 in the broiler.
For the vinaigrette, whisk all the ingredients together in a bowl. Set aside.
Photos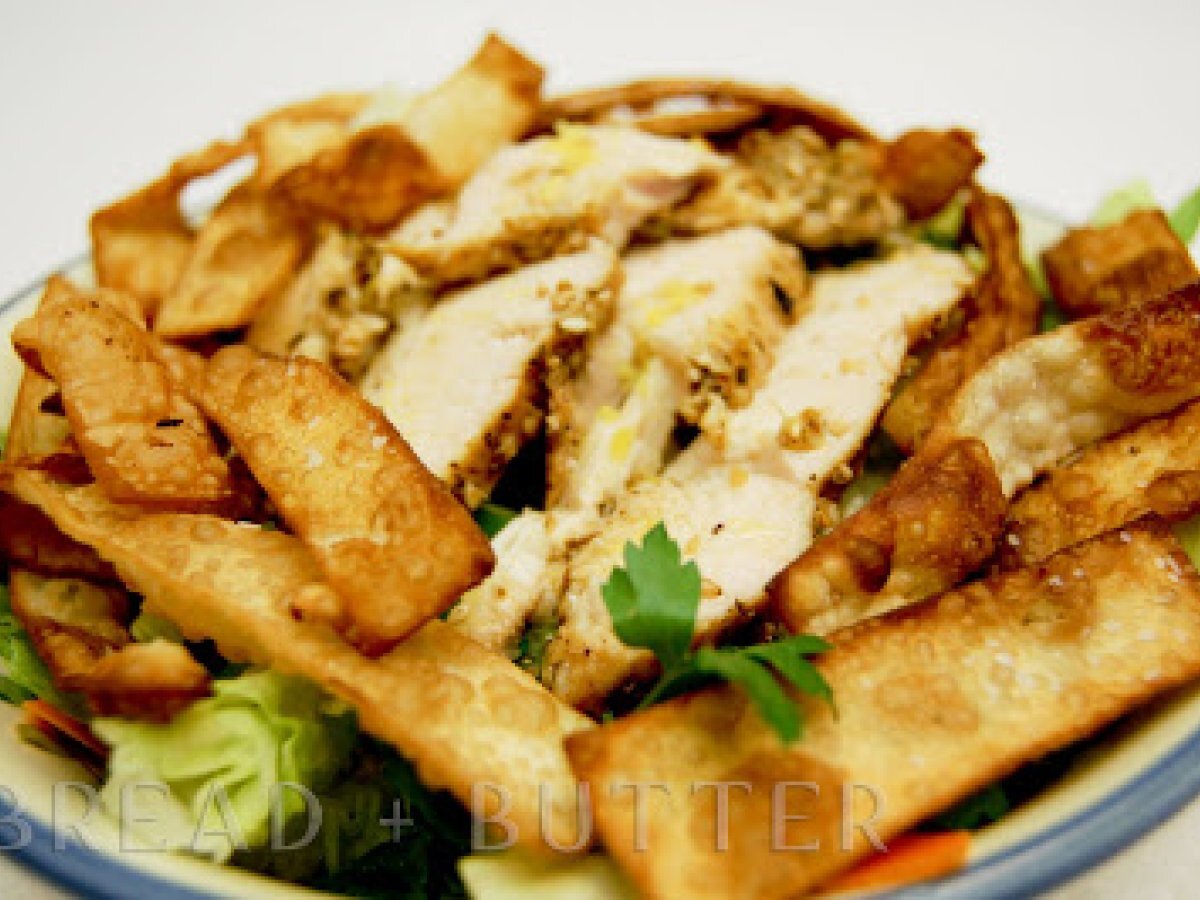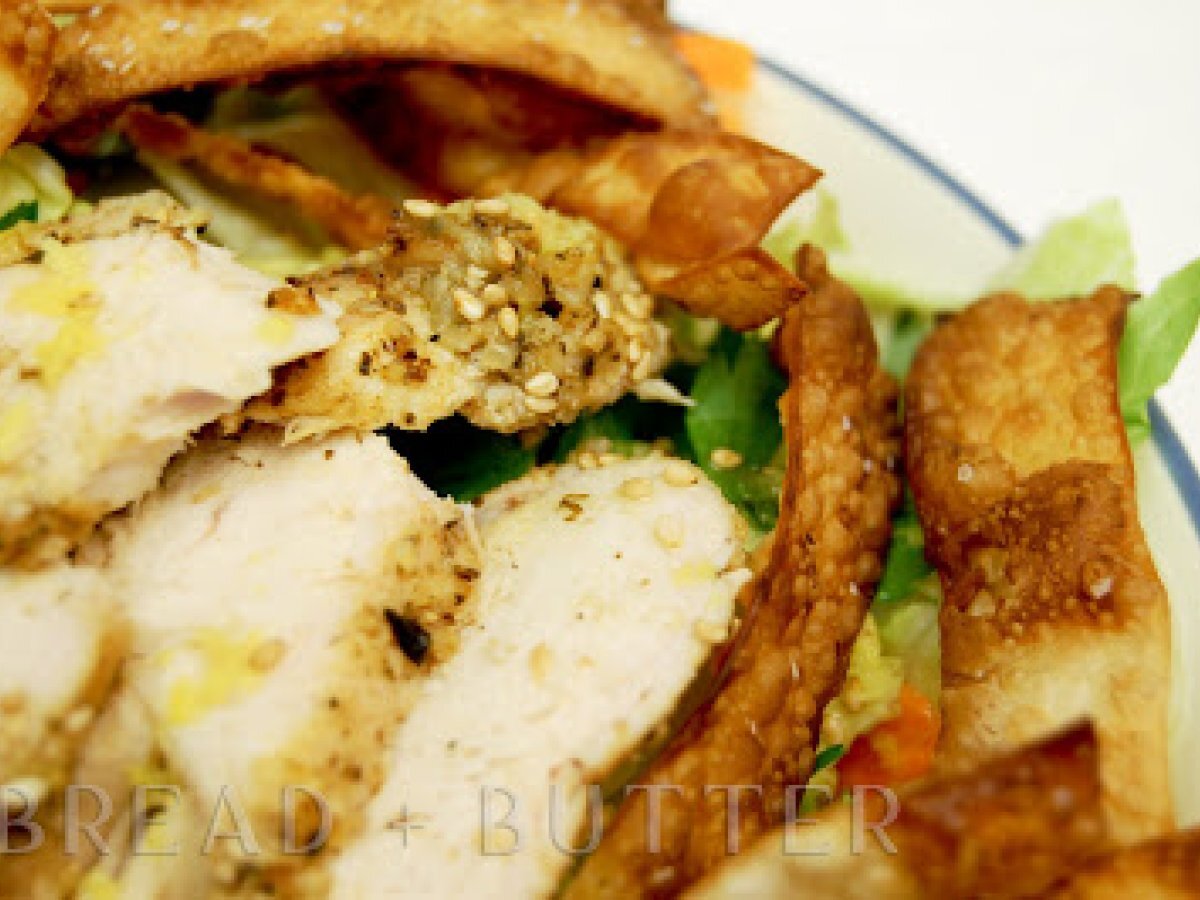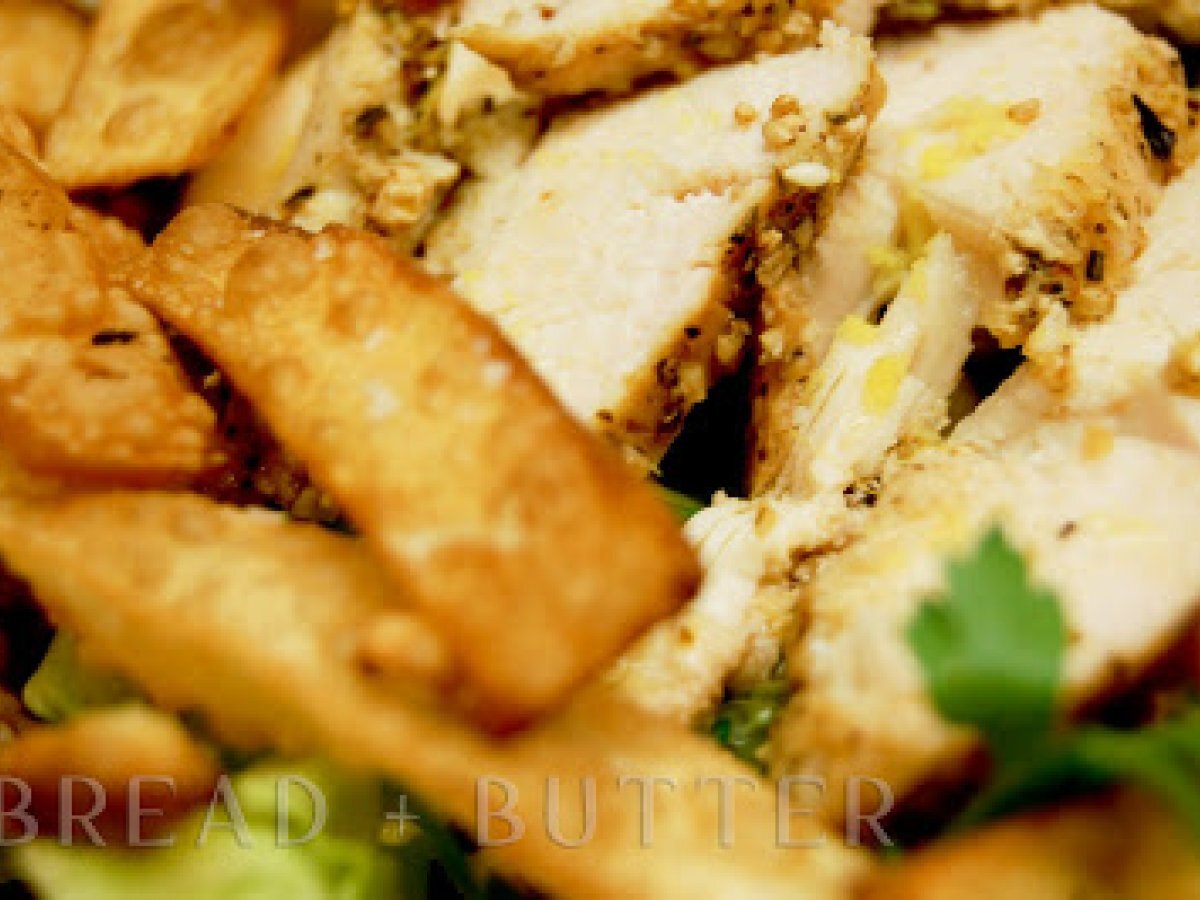 Questions:
Related recipes
Recipes