Eileen's cooking - creamy kalabasa (squash) soup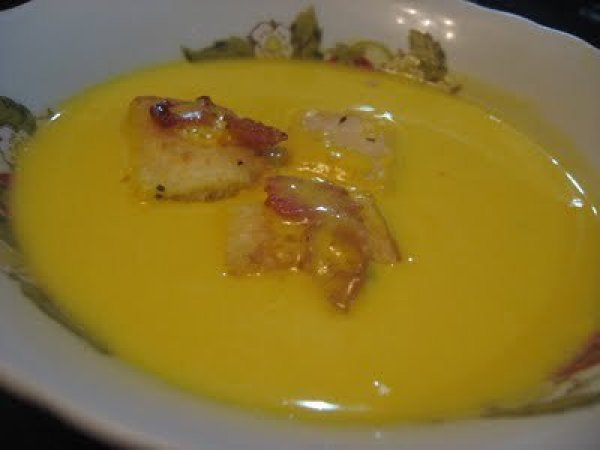 Preparation
1. In a pot heat oil, then saute onions until translucent. Add water and chicken bouillon cube. Stir until cube is dissolved. Add kalabasa, cover and cook for 15 minutes.
2. Using a handheld blender, process the kalabasa until smooth. You may also process it in a blender in batches.
3. Return pureed kalabasa to the pot. Season with salt and pepper. Add the cream. Stir.
4. Pour soup into individual bowls top with bacon bits and croutons. Serve hot.


Croutons recipe
2 1/2 stick unsalted butter
1 tablespoon dried granulated garlic
2 teaspoons dried basil
1/2 teaspoon salt
1/2 teaspoon cayenne pepper
1 loaf white bread, cut into cubes


1. Heat the oven to 225 degrees.
2. In a saucepan over low heat melt the butter. Remove from heat and stir in garlic, basil, salt and cayenne.
3. Place the bread cubes in a large mixing bowls. Add the seasoned butter and quickly toss to evenly coat the bread cubes.
4. Spread the bread cubes on a baking sheet and bake until it turns golden brown.
Questions:
You may like
Recipes