Fava bean salad
Fava bean salad
or
A summer salad, fresh and tasty, as everybody loves them!
Ingredients
---
---
- 1 shallot
---
- 2 ounces seeds mix
---
---
- 1 Tbsp walnut oil
---
- 1 Tbsp vinegar
---
---
---
- pepper
Preparation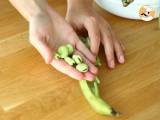 Step 1
Shell the beans. If you have frozen fava beans, defrost them.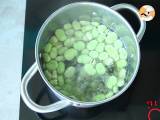 Step 2
Put them in boiling water for 10 minutes. Strain and leave to cool down.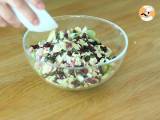 Step 3
Cook the bacon and leave to cool down. Finely chop the shallot. Once all the ingredients are cool, combine them with the seed mix.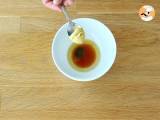 Step 4
The sauce : mix together the olive oil, the walnut oil, the vinegar, the mustard, and salt and pepper.
Step 5
Pour the sauce in the salad and mix well.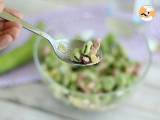 Step 6
There you are, your fava bean salad is ready!
---
---
Related recipes
Recipes