Italian potato crocchette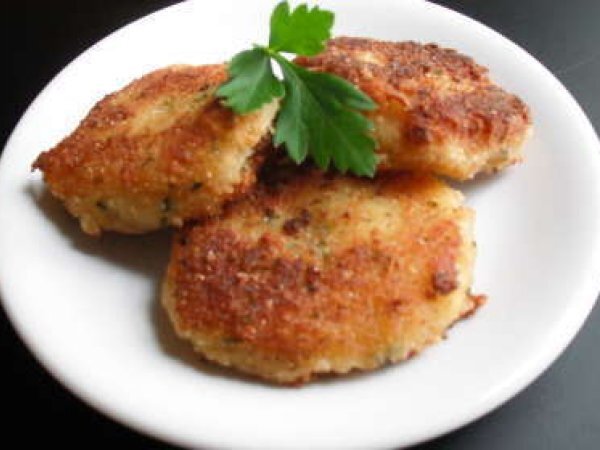 Preparation
Wash and pierce the potatoes and bake at 350 until soft, about an hour.
Cut in half each potato and squeeze them through a ricer/food mill or peel and mash them by hand. This photo shows a ricer "ricing" the potatoes.
Add the butter, salt, parsley, and cheese.
Beat the egg yolks and add them as well. Beat all of this together well, cover and leave in the fridge for an hour or until ready to use.
Shape into crocchette or balls if you like.
Beat the egg whites a little and add a bit of water to loosen, pour into in a shallow bowl like a pie plate.
Put the bread crumbs into a pie plate as well.
Heat up a pan and then add enough oil to fry the crocchette in.
Dip them in the egg whites and coat. Then dip in the bread crumbs to coat. Shake off the extra crumbs before frying.
Fry until golden on each side and then place on a rack to cool slightly not a paper towel or else they will become soggy. Sprinkle a little salt on top of each one while still hot.

If you want to make several batches ahead of time place on a rack on a sheet pan in a very low oven until ready to serve.
Tips & Notes:
These are best served warm but not hot.
You can make these ahead of time and refrigerate on the rack then place the rack in the oven at 350 for a few minutes to reheat.
You can use left over mashed potatoes.
These are delicate so handle gently and use a small spatula to turn and serve.
These hold up better for frying if you allow them to dry out on bit once they are breaded and before frying.
This recipe cooks in 3 batches in a standard skillet but you may need to wipe it out and reapply oil after the first frying or else it may burn the little bread crumb bits.
Questions:
Related recipes
Recipes