Spicy chilli-garlic prawns
Spicy chilli-garlic prawns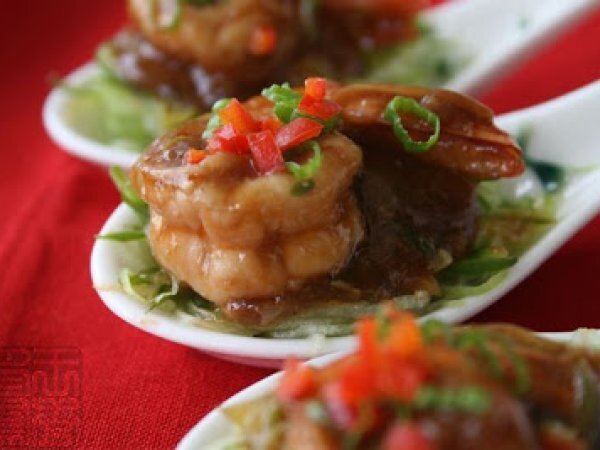 A nice spicy shrimp recipe, make you want to achieve it.
Ingredients
500 g Large
Prawn
s (like King Prawn or Tiger Prawn)
---
---
30 ml Rice Vinegar
---
2 tsp Sesame Oil
---
---
---
1 teaspoon Cornflour
---
Some Water
---
2 tablespoons Cooking Oil
---
---
1 tablespoon Fresh Ginger - minced
---
1 nos Fresh Red Chilli seeded and minced
---
1 stalk Spring Onion - sliced thinly
Preparation
For the Sauce :Mix all the ingredients in a small bowl and stir until sugar and cornflour dissolve.
Heat a pan or wok over high heat until you see some smoke coming out. Add 1 tablesspoon of the cooking oil.
Add in the prawns and sear until browned on both sides (about 1 minute or so on both sides). Remove the prawns from the pan. Set aside.
With the same pan, turn up the heat on high and add in the rest of the cooking oil. Add in the garlic, ginger, chilli and half of the sliced spring onion. Stir for awhile until fragrant.
Add in the sauce mixture and give a quick stir until it starts to bubble. Add the seared prawns and continue to stir-fry until cooked and the sauce thickens slightly.
Dish out into a platter and garnish with the remaining sliced spring onion. Serve with hot steamed rice!
Related recipes
Recipes