Winter special- mawa ladoo
By
yogee246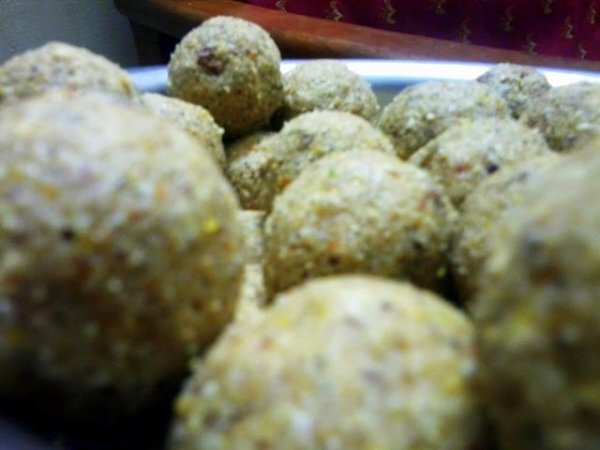 Recipe type:

Dessert

Number of serving:

8 servings

Preparation:

30 min

Cook time:

30 min

Ready in:

1 hour

Difficulty:

Easy
Ingredients
250 gms kharik/ dry dates
2 cups grated dry cocnut
100 gms cashews
100 gms
almonds
100 gms
Walnuts
50 gms
Pistachios
50 gms Godambi/ Marking Nut/ Marsh Nut/ Oriental
Cashew Nut
50 gms Edible Gum/ Resin
50 gms Charoli/ Chironji
30 gms raisins
1 cup powdered
sugar
(adjust as per taste)
1 cup ghee
2-3 tbspn khus-khus/ poppy seeds
1/2 tsp Nutmeg pwd
1/2 tsp cardamom pwd
Preparation
Step 1: De-seed & cut the kharik (dry dates) into small pieces.
Step 2: Heat a pan/ kadhai. Dry roast the kharik (just to help it loose the moisture if any) approx. 5 mins. Set aside.
Step 3: In the same pan, dry roast the Poppy seeds, Coconut, Godambi (Marking Nut). Powder the poppy seeds & set aside.
Step 4: Heat 1 tbspn ghee & toss the raisins till golden. Set aside.
Step 5: Add rest of the ghee. Once its hot, deep fry the edible gum/ resin till it nicely fluffs up!! Make sure you are patient at this stage & no hurry since it can remain uncooked from inside.
Step 6: Now get all set with your grinder. Mix the kharik & coconut (only kharik is difficult to be powdered, hence this step).
Step 7: Put the fried edible gum/resin in the blender & blend once. It will become fine in no time. Set aside.
Step 8: In 2-3 batches, grind the kharik+coconut mixture to fine powder.
Step 9: Now mix all the nuts. In small batches, grind them to powder (a bit coarse will also do!)
Step 10: Mix all the powders in a big pan. Add cardamom & nutmeg pwd. Add raisins & powdered sugar. Mix well.
Step 11: Now warm the ghee used in Step 5 to fry the Edible gum/ resin. Once warm, pour this above the mixture. Mix well.
Step 12: Now you can easily bind the ladoos out of this mixture as per the size you like!!
Related recipes
Questions:
By
yogee246

---
---
Recipes