Baked eggs with bacon and chives
Baked eggs with bacon and chives
or
When you don't have enough time to make dinner, there is nothing as quick as baked eggs! You can litteraly put anything you want in it and enjoy a healthy and light dinner.
Ingredients
---
---
---
grated cheese
---
chives
---
---
pepper
Materials
4 ramekins
---
Preparation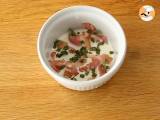 Step 1
In each ramekin, put a tablespoon of cream, some pieces of grilled bacon and some chives.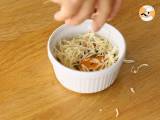 Step 2
Break an egg in each ramekin (be careful not to break the yolk). Salt, pepper, add some little pieces of bacon, and sprinkle with grated cheese.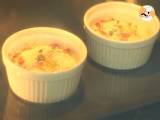 Step 3
Bake 10 min at 350°F (180°C).
Step 4
There you are, your baked eggs are ready!
---
---
Related recipes
Recipes
Related articles