Easy chinese fried rice
Easy Chinese Fried Rice
Some days can be quite a drag.... All you want to do is flop on a sofa and laze around the whole day, if you could help. But unfortunately, with a little girl to feed, that wonderful day dream almost always remains a dream :(
Now, yesterday was one such day and I just couldn't think about doing any elaborate cooking, cleaning or anything productive so to say. Breakfast went smooth with a bowl of cereal :). But as lunch time approached, and with no leftovers stocked in the fridge I was forced to drag myself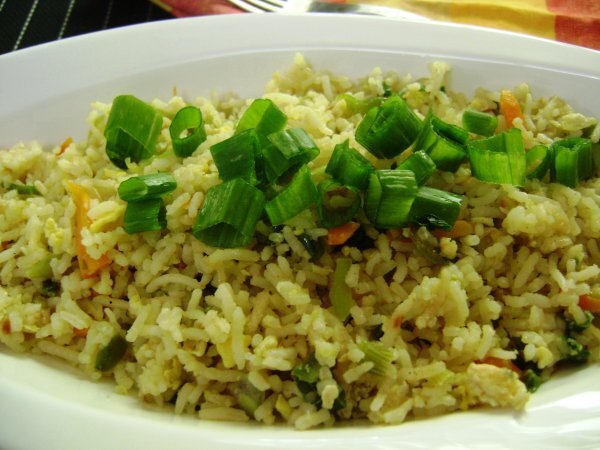 Preparation
For fried rice it's always best to cook your rice the previous day.
Boil enough water to cover the rice while cooking. Cook rice till 3/4 th done, strain and leave to cool completely and then refrigerate overnight.
Heat oil in a wok, drop in the crushed garlic and sauté till the raw smell is off. Now toss in the diced onion and continue sautéing till translucent.
Follow this with half of the diced spring onion, sliced carrots, beans and capsicum and sauté for a couple of minutes.
Once all the veggies are done, makes well in between and break in the eggs one by one. Let the eggs set a bit and then scramble them well.
Take your refrigerated rice, and after breaking up the lumps toss into the sautéed veggies.
Tip in the sauces, vinegar, white pepper and salt and mix well. Try not to break the rice when you do so. And cook till the rice is nice and hot and fried.
Finally, garnish with the remaining spring onion and serve warm.
Questions:
You may like
Recipes
Related articles