Estopado - pata (pork knuckle braised in pineapple juice)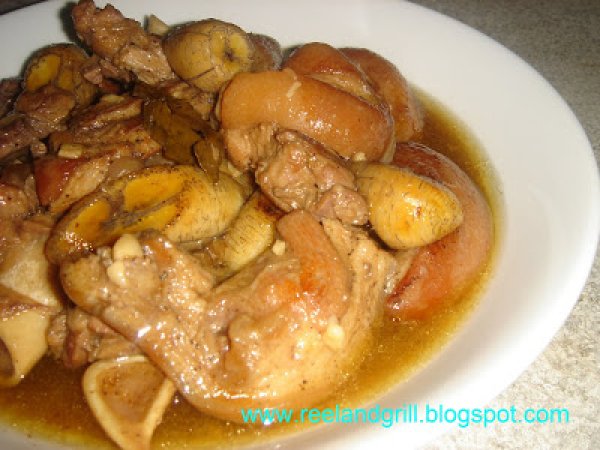 Preparation
In a mixing container, place the meat and add in soy sauce, ground pepper, salt and MSG. Combine properly to evenly coat the pork pieces. Marinate for at least an hour.
In a wide pan, heat the oil and fry the pork pieces in batches until both sides of the meat are lightly seared. Continue frying until all meat is lightly browned. Set aside.
In the same pan, slightly fry the bananas as well then set aside.
In a large wok or heavy casserole, arrange the seared meat. In between them place the garlic, onions and bay leaves. Pour the pineapple juice and vinegar and simmer on medium heat until the liquid is boiling.
Adjust the heat setting to low and continue simmering until the meat is pork tender and its hind gelatinous.
When the liquid is slightly reduced, add in bananas followed by the brown sugar. Simmer further until the bananas are cooked through and sauce is slightly thick.
Taste and adjust the seasonings. Simmer for several minutes more or until your desired sauce level is attained.
Transfer in wide serving plates and serve with lots and lots of steamed rice.
Questions:
Related recipes
Recipes