Fabulous five bean soup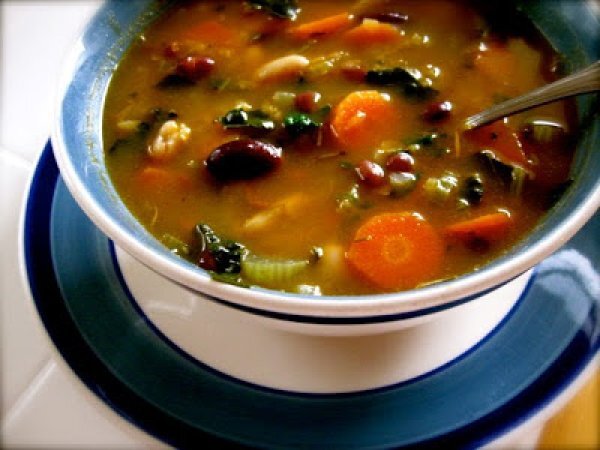 Recipe type:

Main Dish

Number of serving:

4 servings

Preparation:

25 min

Cook time:

20 min

Ready in:

45 min

Difficulty:

Very Easy
Ingredients
- 1 cup of diced onion
- 1 cup diced
celery
- 1 cup of sliced
carrots
- 4 minced
cloves
of garlic
- 2 TB of olive oil
- 4 cups of
vegetable
broth
- 8 cups of pure water
- 1 cup of chopped
kale
- 1 TB of ground cumin
- 1 TB of chili powder
- 1 ts. of ground coriander
- 1 ts. of dried rosemary
- 1 14 ounce can of each kind of bean: adzuki, great northern, kidney, and pinto
- 1 cup of red lentils
- 1/2 cup of chopped fresh parsley
Preparation
Step 1
Saute the onion, garlic, celery and carrots in the olive oil in a large pot. Saute for 5 minutes or so until the veggies are softer.
Step 2
Then pour in 4 cups of veggie broth and 8 cups of pure water. Let the liquid get hot and pour in the rest of the ingredients except the fresh parsley.
Step 3
Let the soup cook at a higher heat for 30 minutes or so, and then you can turn to medium to lower heat to simmer and add in the parsley. You can simmer this soup as long as you like.
Step 4
Serve with fresh herbs or gluten-free bread. This recipe makes a lot, so you may want to make to share with friends or bring some to a neighbor.
Related recipes
Questions:
---
---
Related video
Recipes