Garden pasta with spinach and cece al forno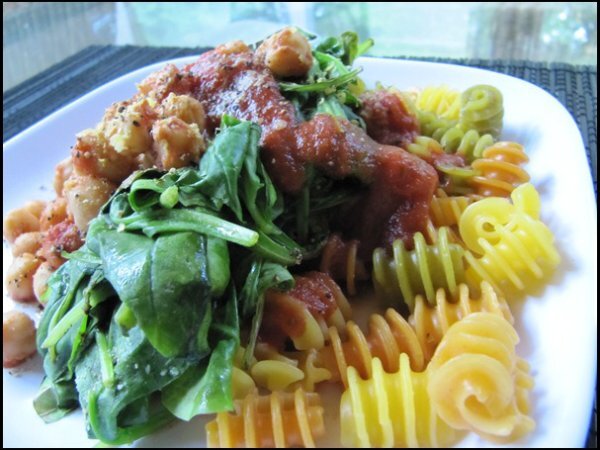 Recipe type:

Main Dish

Number of serving:

2 servings

Preparation:

20 min

Cook time:

30 min

Ready in:

50 min

Difficulty:

Very Easy
Ingredients
Preparation
Step 1
Turn oven to 400* F. Line bread pan with foil, spray with olive oil and pour chick peas in. Pour over 1/2 cup red sauce. Bake for 5 minutes.
Step 2
Meanwhile, get a covered pan of hot water on the stove for pasta. Salt to taste.
Step 3
Mix together tahini, lemon juice, nutritional yeast, a pinch of salt, a pinch of garlic powder and a few grinds of black pepper. If needed, add some water. Pour on top of chick pea bake. Set timer for another 5 minutes.
Step 4
With another piece of foil, create a try by folding the sides up and crimping so it doesn't fall apart. Spray with olive oil spray and spread out baby spinach.
Step 5
Add pasta to boiling water. Turn oven to broil. Keep chick pea bake on top shelf but move it over to make room for the spinach. Broil for 4 minutes.
Step 6
Drain pasta, pour on to plate with another 1/4 cup of the sauce.
Step 7
Toss cooked spinach with a pinch of salt, pepper, and garlic. Toss on to pasta.
Step 8
Scoop out chick peas on to plate. Serve with the last little bit of sauce. Save leftover chickpeas for lunch.
Questions:
---
---
Related video
Related recipes
Recipes
Related articles