Lugaw with goto (rice soup with beef tripe)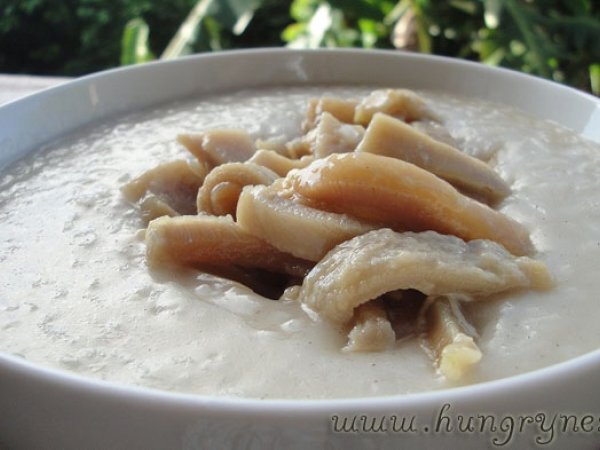 Preparation
Wash thoroughly the goto or beef tripe with running water. Remove excess fat sticked on the beef tripe using knife. Drain.
Using your pressure cooker, place the clean beef tripe, 1 liter water and salt. Cook for about 40 minutes until until tender.
But if you don't have a pressure cooker, just place the beef tripe, water and salt in a large pot and cook until tender.
This may take about 1-2 hours so make sure you are adding about a glass of water from time to time so beef tripe would stick at the the bottom of the pan.
Then, remove the cooked beef tripe from the pot, setting aside the broth.
Then, slice the beef tripe about 1/4-1/2 inch strip. Set aside.
Wash the malagkit or glutinous rice with running water and drain. Set aside.
Heat a large heavy pot/pan. Swirl in cooking oil, then saute the ginger, garlic and onion. Cook until aromatic.
Add the sliced beef tripe or goto. Cook about 3 minutes.
Add the malagkit or the glutinous rice. Stirring constantly.
Then add about 1 liter of beef tripe broth.
Cooked, stirring frequently, scraping the ingredients at the bottom of the pan. Season with fish sauce, ground pepper and salt.
Questions:
You may like
Recipes