Serendipity: green lipped mussels – thai style
Serendipity: Green Lipped Mussels – Thai Style
I picked up the ingredients at the market earlier and thought how appropriate it would be to make Thai influenced green lipped mussels. Rich and delicious mussels in a coconut cream sauce infused with basil, cilantro, fresh galangal and lemongrass.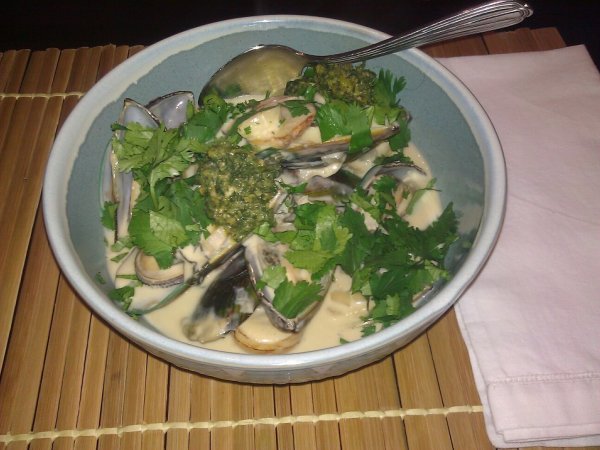 Preparation
Heat oil in a deep pot.
Add onions and saute until softened.
Add curry paste and saute to extract the flavors.
Add white wine and continue to saute for a couple of minutes.
Add coconut cream, galangal, lemon grass, thai basil leaves, a handful of cilantro and bring to a simmer.
Simmer for 30 minutes until thickened, reduced and until the flavors are incorporated.
Add green lipped mussels and cook for 12-15 minutes or until done.
Serve in a deep bowl with lots of liquid to soak up the juices, Garnish with fresh cilantro. I topped mine with a mint/cilantro/basil pesto as well.
Questions:
You may like
Recipes