Serendipity: green lipped mussels – thai style
Serendipity: green lipped mussels – thai style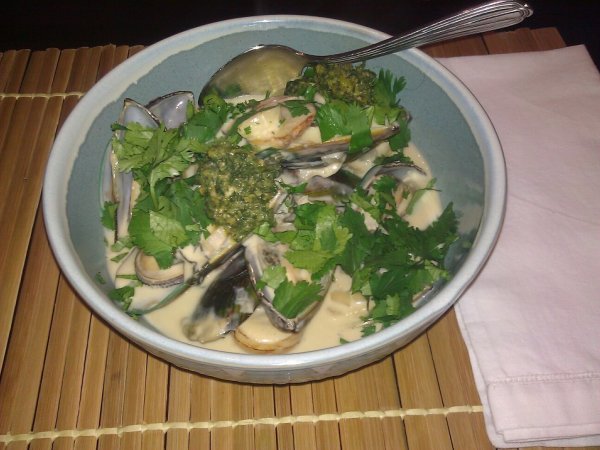 I picked up the ingredients at the market earlier and thought how appropriate it would be to make Thai influenced green lipped mussels. Rich and delicious mussels in a coconut cream sauce infused with basil, cilantro, fresh galangal and lemongrass.
Ingredients
1 pound green lipped mussels (I used frozen green lippped mussels on the half shell as that is all I could find)
---
---
3/4 cup white wine (I used Austrian Gewurztraminer, an old one that I lost in the cellar, I wanted the foral aromatics of the Gewurtz)
---
---
---
1 1/2″ knob of fresh galangal (mine was about 1 1/2″ diameter) cut into 1/4″ slices
---
1 stalk of lemongrass – smashed to open up the fibers and cut into 2 " lengths
---
---
---
1/2 bunch of fresh cilantro
---
1/2 tbl coconut oil
Preparation
Heat oil in a deep pot.
Add onions and saute until softened.
Add curry paste and saute to extract the flavors.
Add white wine and continue to saute for a couple of minutes.
Add coconut cream, galangal, lemon grass, thai basil leaves, a handful of cilantro and bring to a simmer.
Simmer for 30 minutes until thickened, reduced and until the flavors are incorporated.
Add green lipped mussels and cook for 12-15 minutes or until done.
Serve in a deep bowl with lots of liquid to soak up the juices, Garnish with fresh cilantro. I topped mine with a mint/cilantro/basil pesto as well.
Questions:
Related recipes
Recipes