Tomato & basil soup
Tomato & basil soup
Introducing a vegetable of the summer season: the tomato. How nice it would be if we could benefit from this health bomb all year round... but wait. We can! We offer you this super-easy recipe that you can prepare so that you can stock up for the winter. Just defrost it the moment you need some sunshine in the freezing cold of January. And to add flavour, don't forget the fresh basil leaves. Follow our step-by-step recipe and write a comment if you liked it!
Materials
1 immersion blender
1 baking tray
1 baking sheet
1 saucepan
Preparation
Preheat the oven to 190°C. Wash and cut the cherry tomatoes in two, then place them on a baking tray with a baking sheet on. Season with olive oil, salt and pepper.

Bake for about 20-30 minutes to roast them, then set aside while chopping up the onion, basil and garlic cloves.

Pour a drop of olive oil into a saucepan and fry the chopped onion for 5 minutes over medium heat.

Add the garlic, salt and pepper and stir-fry for about 1 minute. Then incorporate the peeled tomatoes, chopped basil and sugar. Stir and simmer for 10 minutes.

Pour in the stock and add the roasted tomatoes, then boil for 30 minutes, stirring occasionally. Add the cream at the end of the cooking time.

Finally, blend everything with an immersion blender.

The tomato soup is ready! You can decorate it with chopped basil leaves and olive oil.
You tried this recipe ?
Mention @petitchef_en and tag #petitchef
Observations:
Can I store tomato soup?
Of course. Just refrigerate it in food containers and eat it within two days. Just heat it over a low heat.

Can I freeze tomato soup?
No problem! Wait until the soup has cooled before putting it in an airtight container or food storage freezer bags. We recommend that you freeze the soup by portions so that you only thaw the quantities you need the same day. This way, it can be stored in the freezer for several months. When you are ready to eat, simply place the frozen soup in a saucepan and heat over a low heat.

How do you prepare vegetable stock for tomato soup?
You can either infuse the vegetable skins in the desired volume of water and sieve or boil the water and add a vegetable stock cube and stir.

Can I serve the tomato soup cold?
Of course. In summer it will be great to enjoy this recipe cold.

Can I add other vegetables to tomato soup?
Yes. You can add red peppers which will keep the same colour but vary the flavour. Potatoes could also be a very tasty option.

How to replace cream in tomato soup?
You can replace cream with milk. In this case, however, you will have to combine it with cornstarch and flour to make it thicker. You will then need to sieve 20 g of flour, 40 g of cornstarch and pour in 120 ml of previously heated milk. When you start stirring, the mixture will become thick and your alternative cream will be ready.

How to make lactose-free tomato soup?
Simply buy lactose-free cream or, if you do not use cream, lactose-free milk. Both are widely available on the market.
Photos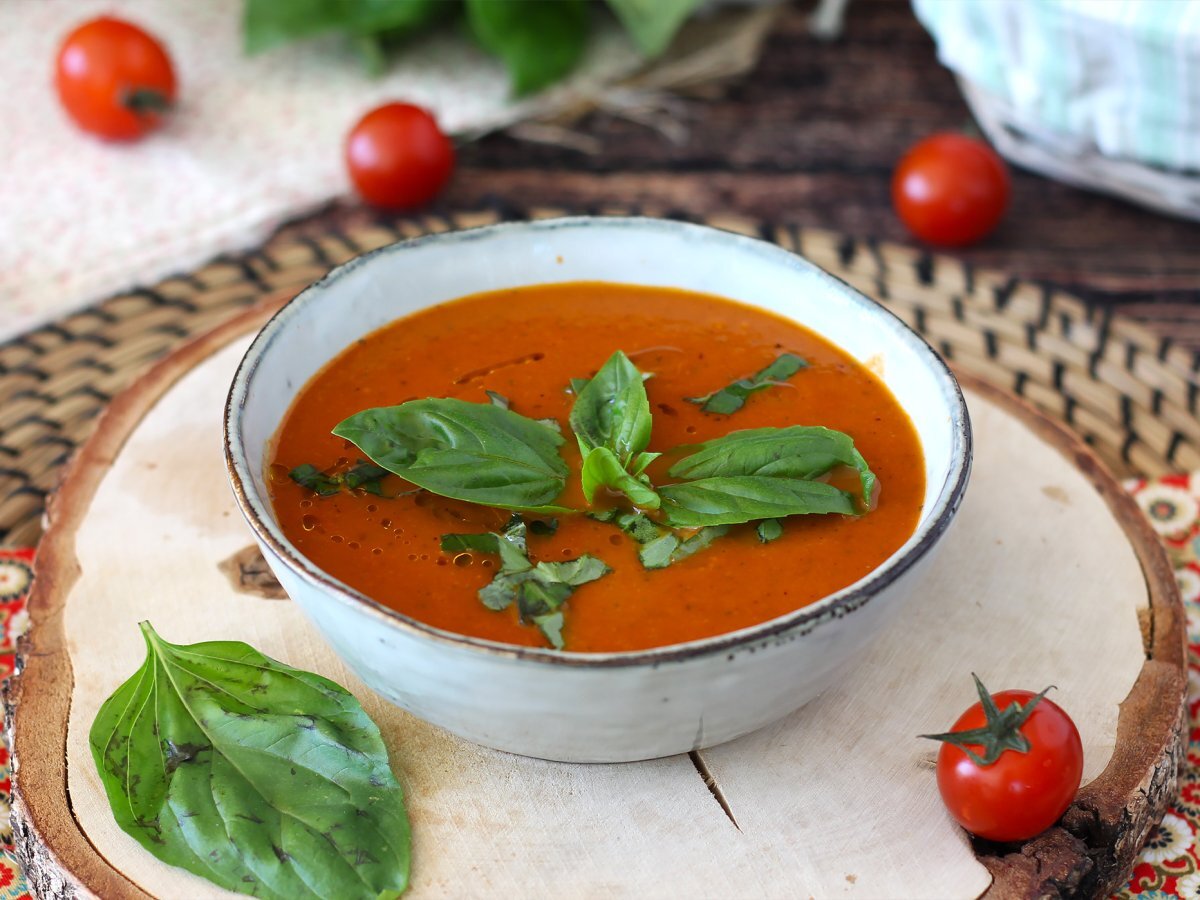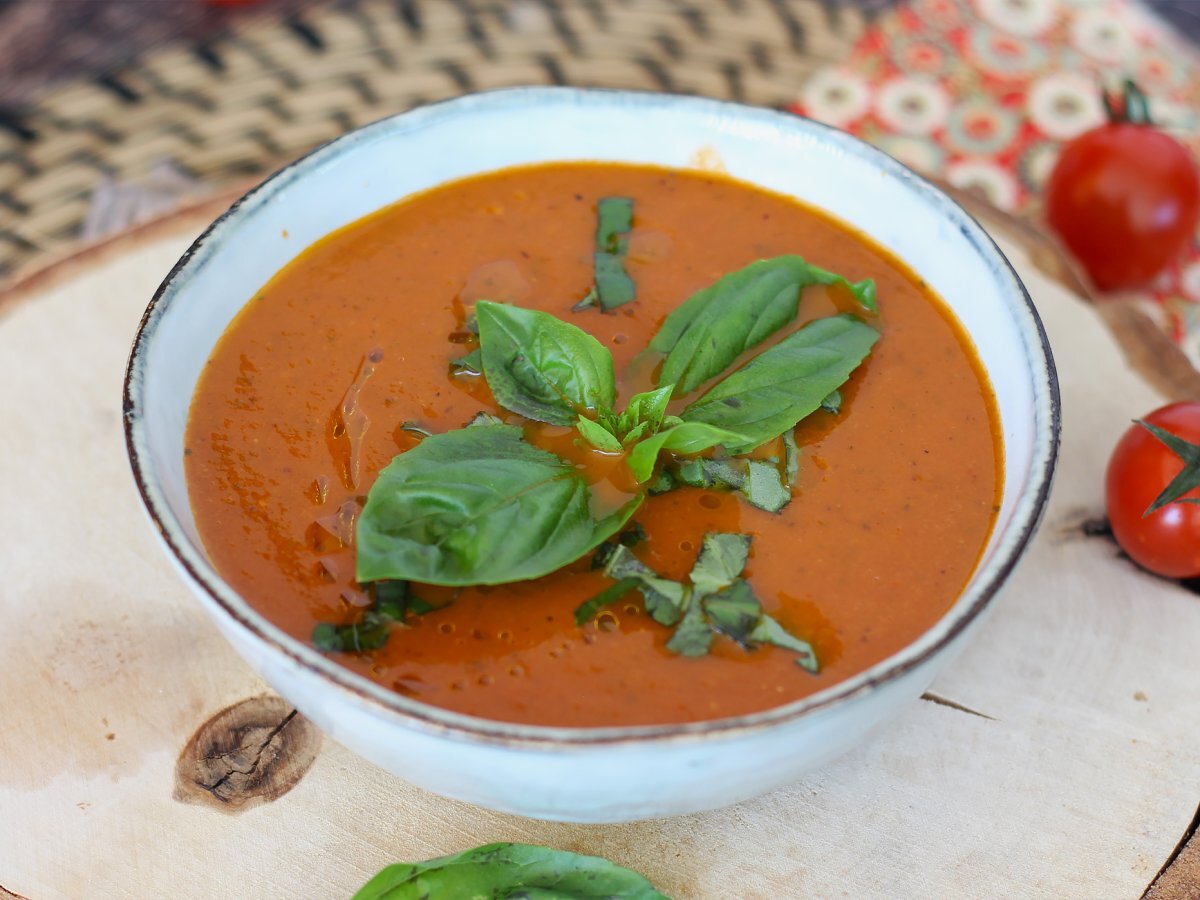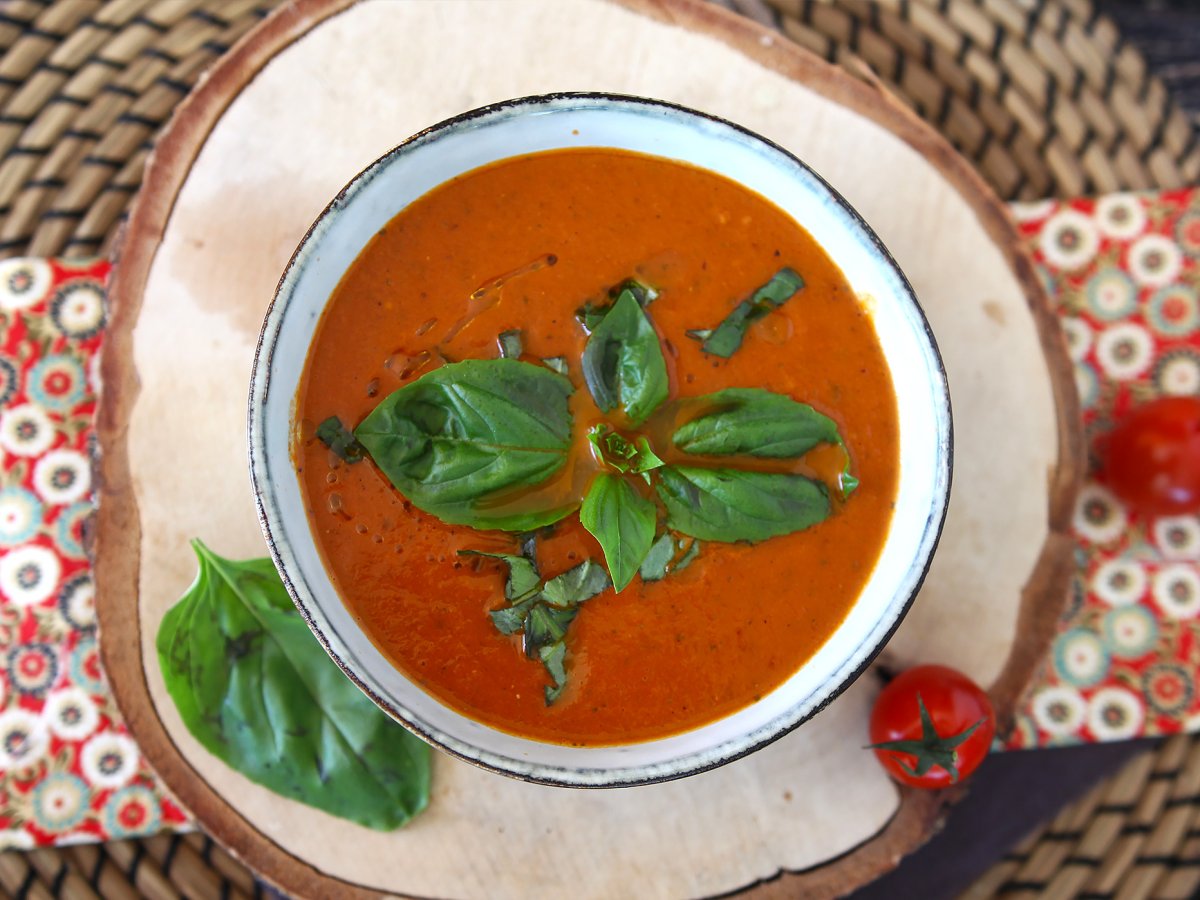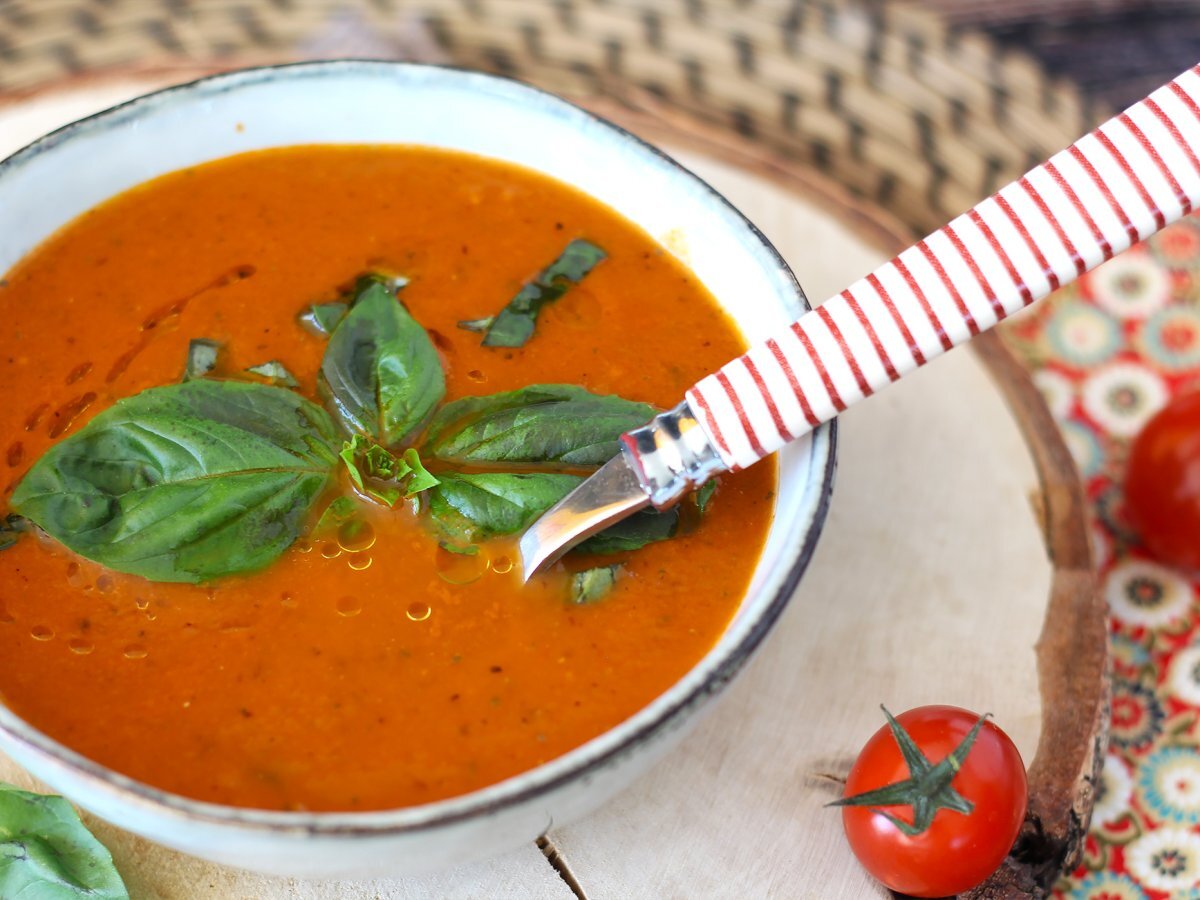 Questions:
You may like
Recipes